Jessica Rowbury looks at the challenges of bringing spectroscopy to the consumer market, and whether we're likely to see them being used by the
public in the near future
Whether it's to check the quality of a bottle of wine, determine whether an organic apple is really pesticide-free, or even self-diagnose a rash at home, consumer spectrometers could give the general public a range of new capabilities, as well as open up a huge market for spectroscopy.
The idea of having a spectrometer that fits into a pocket or that's integrated within a smartphone is an exciting prospect, but is it a realistic one? Some companies have been promising these types of devices for the last few years, but currently no such pocket spectrometer exists – or at least not one that can provide consumers with information that's genuinely useful.
Israel-based Consumer Physics and Canadian firm TellSpec are two examples of crowdfunded companies offering portable analysers, but whose technology has yet to live up to expectations – TellSpec crowdsourced investment in 2013 but to date hasn't released a device, while Consumer Physics' SCiO instrument, which launched in 2016 raising $2.7 million on Kickstarter three years ago, has been criticised by some of its investors for not delivering the functionality promised.
So, will there be a day when spectrometers are being used to scan food in supermarkets? With technology advances, it seems that even though devices can be made smaller, challenges remain in finding the right use cases, dealing with data, as well as setting reasonable expectations for consumers.
Fitting applications
Consumer spectroscopy brings with it a completely new type of user. Finding the right applications and presenting information in an appropriate way creates challenges that are perhaps even more difficult than those associated with hardware, optics and electronics.
'The challenge is not getting the instruments out there, but determining what to do with them [and how] to provide meaningful results to the general, rather than scientific, population,' said Erik Schoeffel, who deals with marketing and sales at McPherson, a manufacturer of finish-to-order scientific instruments. Schoeffel said that the company is looking to bring spectroscopy products to the broader consumer market in the next three to five years.
Henry Langston, Ocean Optics' general manager for the UK and Ireland, added: 'People are realising that it's more about the challenge of the application and the specific application that they want to do rather than the technological challenges – miniaturisation or combining a spectrometer into an integrated or consumer-level system.' He noted that Ocean Optics also views the consumer space as an attractive opportunity in the coming years.
Medical diagnostics and food analysis both seem to be exciting possibilities for consumers, allowing them to monitor health at home or test groceries before they buy.
'We've definitely seen a lot of interest and activity around food – food safety, food analysis, and food authentication,' Langston noted. He pointed to several global food scandals that have alarmed consumers recently, such as horse meat being sold as beef in the UK, infant milk powder being tainted with melamine in China, and a Listeria outbreak in cucumbers in Germany.
'The expectation will be that it doesn't just work, but works well'
'There are a number of these events happening and, because our food is being produced at an industrial scale, people are suddenly much more concerned or aware of the challenges of how to protect themselves,' Langston commented.
At the moment, food analysis seems more feasible for the first consumer devices, Langston remarked. 'That's not to say that traditional big markets like biomedical don't exist, I think it's simply that there are different drivers. Biomedical has a lot of regulatory challenges; consumer devices are still being developed, but on a much longer timescale,' he said. 'Whereas with food there is a shorter path to more direct applications, and it's an area where there is a lot of burgeoning interest.'
Dr Katherine Bakeev, director of market and customer development at B&WTek, agreed that food analysis is more likely as an entry market, because the calibration and creating databases is easier. 'When it comes to medical, people are so different that to build up those databases will be more challenging. Glucose monitoring for example: people have been looking to do this spectroscopically for 20 to 30 years to make it a patient tool. That work is ongoing, and it's because people are different; to have a calibration for each individual is difficult, but to have a universal one is also difficult.'
However, she noted that cost will also drive applications, and consumers may be prepared to spend more on a device that could monitor their health. 'If you had a device that could tell you your health you'd be prone to buy that. Food safety is also important, but what would you be willing to pay for that? If it's for your health perhaps you would pay $1,000.'
BW&Tek sells handheld Raman and Laser-Induced Breakdown Spectroscopy (LIBS) instruments, and although the company is not involved in the consumer space currently, it holds a patent for a smartphone spectroscopy device. Bakeev noted that this is where they see the consumer market moving towards in the future.
Setting expectations
Regardless of the application, setting realistic expectations for consumers is important, particularly as these types of users can be less forgiving when it comes to technology.
'As a whole we have very high expectations for consumer-level devices,' said Langston. 'Smartphones are the classic example of something very technologically advanced where people have very high expectations of them working intuitively and reliably. People get incredibly frustrated with the battery life, for example.
'Consumers are not going to be forgiving, and if they're going to use it, they will use it every day and the expectation will be that it doesn't just work, but works well,' he continued.
The type of measurements and answers that can be obtained with consumer-level devices remains to be seen. But, according to Bakeev, there needs to be a clear understanding as to what the customer expects and what is actually being delivered.
'There are some people that are claiming that they can give you the number of calories in food, for instance, but can this be done reliably? Or is it that you can tell people that a food item is safe or not safe,' Bakeev noted. 
'The interface is important – will it be something that gives you a red light or a green light, or will it be something more detailed? I think the technology is ready to tell you whether something is safe or not safe, but to go into the numerics with exact concentrations, perhaps not so much. It's a question of what you're purporting to tell people the technology can deliver.'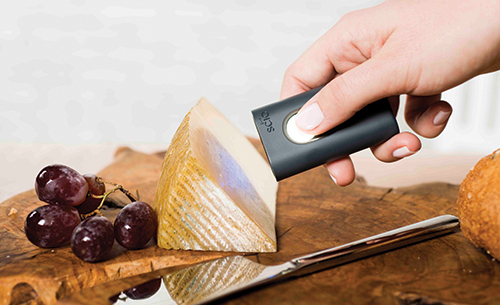 Consumer Physics' SCiO can scan food for nutritional values
One device that created a lot of excitement when it was first put forward on KickStarter in 2014 is the SCiO by Consumer Physics. Launched last year, the near-infrared micro-spectrometer weighs just 35g, measures 6.8 x 4 x 1.9cm and retails at $299.
After an item is scanned at a measuring distance of between 5mm and 15mm, the SCiO sends the spectrum of the sample to a smartphone wirelessly, which in turn forwards it to the cloud where it is analysed and compared to a database. Information about the sample is then sent back to the user's smartphone in real time.
Currently, the SCiO can identify over-the-counter pain relievers, measure cocoa solid concentration in chocolate, and obtain nutritional information – such as calories, fat and carbohydrates – about dairy products, meats, and fruit and veg.
But since delivering to customers, the company has received complaints from some of its Kickstarter backers about the limited capability of the device. Consumer Physics says that new applications are being developed and released regularly.
Despite the SCiO not living up to expectations, many have pointed to Consumer Physics' achievements in miniaturising its technology and bringing a functional product to market.
In January, semiconductor company Si-Ware Systems introduced a chip-sized fourier transform infrared (FT-IR) spectrometer that has the potential to be integrated into consumer products.
Si-Ware has said that its technology is different because it doesn't contain any discrete optics – apart from a chip-scale photodetector – which has enabled the miniaturisation and allows for high-volume wafer-level manufacturing.
The NeoSpectra Micro consists of a micro-interferometer integrated onto a silicon chip. Its size is 18 x 18mm and 4mm thick, and has a spectral range of between 1,150nm and 2,500nm. 
By using silicon MEMS processes, the company has been able to take the same technology found inside its module instrument, the NeoSpectra, which is already being used for analysis in the oil and gas, pharmaceutical and agricultural industries. So, when integrated into consumer devices, the technology will be able to provide more detailed and useful information, Scott Smyser, executive vice president of Si-Ware Systems, said. 
The chip-sized spectrometer consists of an optical core module (OCM) containing the ASIC, MEMS chip, chip-scale photodetector, and the lenses all encapsulated inside a glass lid, along with two halogen light sources that are also integrated onto the board. 
'We're doing that because we want to make it something that is more easily plug-and-play for the consumer electronics market, but we can still take the OCM and sell that to perhaps more sophisticated designers that want to incorporate their own light sources [in systems] and do something different with the optics,' Smyser remarked. 
Si-Ware expects to see its chip-sized spectrometer in consumer devices in 2018. The company is releasing development kits in the early part of the second quarter 2017, and engineering samples later on in the year, which will enable designers to create consumer use cases. 'The plan is that we'll be ready for volume production by the end of the year,' he said.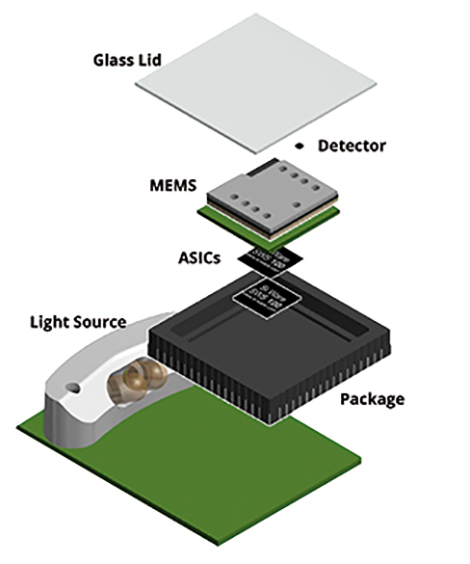 The NeoSpectra Micro from Si-Ware can be used inside a smartphone case or integrated into a mobile phone
At Photonics West, Si-Ware showed a prototype smartphone case containing its spectrometer chip, which was able to detect gluten and caffeine in flour and coffee grains. Although the results were accurate, the samples had to be in contact with the case and held securely for a short period of time. This is one of the things that will need to be worked on for consumer devices, particularly as most people are not used to taking measurements in this way. 'We need to refine that [sampling method] such that we can measure more robustly if there is movement or when it is not possible to have direct contact,' Smyser said.
Difficult data
Indeed, huge challenges remain in making sure the sampling process is robust enough so consumers can produce valid data. Although spectrometers are now being used by less conventional users – such as by those working on a manufacturing line – consumer spectrometers will most likely be purchased online, with users following an instruction manual rather than receiving any level of training. 
'Most consumers are not scientists or chemo technicians, and don't necessarily understand the process of taking readings repeatedly or with variables kept the same,' said Ocean Optic's Langston. 'So you've really got to reduce and simplify the process of the measurement to something anybody can do, and to make sure they can do it without making mistakes, or without creating any invalid data.'
This is one such problem that TellSpec encountered during the development of its spectroscopic food scanner that was due for launch in 2014. 
'Most consumers are not scientists, and don't necessarily understand the process of taking readings repeatedly'
TellSpec had planned to crowdsource its data to build up databases. However, problems associated with getting consumers to scan properly have caused the company to re-think this approach. 'Customers are not careful enough with scanning, so the data produced is not adequate enough to be used for a good robust detection,' commented TellSpec CEO Isabel Hoffman. 'Our experience has been that whatever is asked of consumers, to scan properly is a huge process and tricky to get right. So, we have built our databases ourselves, internally, by hiring lab technicians that can do it correctly and carefully.'
This was just one of many barriers TellSpec experienced during the development of its food scanner. The initial challenge in 2014 was miniaturisation, noted Hoffman, but since working with Texas Instruments the company has managed to work with this. 'Soon after, we had questions about how to manufacturer these small spectrometers, and with who should be our manufacturer. We needed to choose a manufacturer that understood a start-up, but at the same time could scale to 100,000 units in a month,' Hoffman explained. 'Then came the scalability of our cloud detection engine, to go from a small number of users to eventually millions. And finally, how do we distribute these units, and what model of distribution do we use? These are some of the barriers we had to deal with.'
Having overcome these major challenges, the company remains confident that it will be able to launch its Generation 1 scanner in the near future.
Along with crowdsourcing, there are several cases for building up databases, something that is hugely important for enabling proper analysis of data and to give consumers meaningful information. The method used depends on the application, according to Langston. 
'At Ocean Optics we're mainly working through our OEMs as well as developing our own solutions in a number of targeted markets. I think what we'll see is that it's more a community of niche users, whether the data is handled by the likes of Ocean or a company that Ocean is supplying technology into, or perhaps even a third party – it could be as simple as a DropBox,' he said.
'Also, companies working with customers that are engaged in applications are becoming more aware of how they can build more of an ecosystem model, or what we call a "platform model", where you can take advantage on both sides.
'It will depend on the specific business model of the application in question,' Langston said.