The rise and rise of VCSELs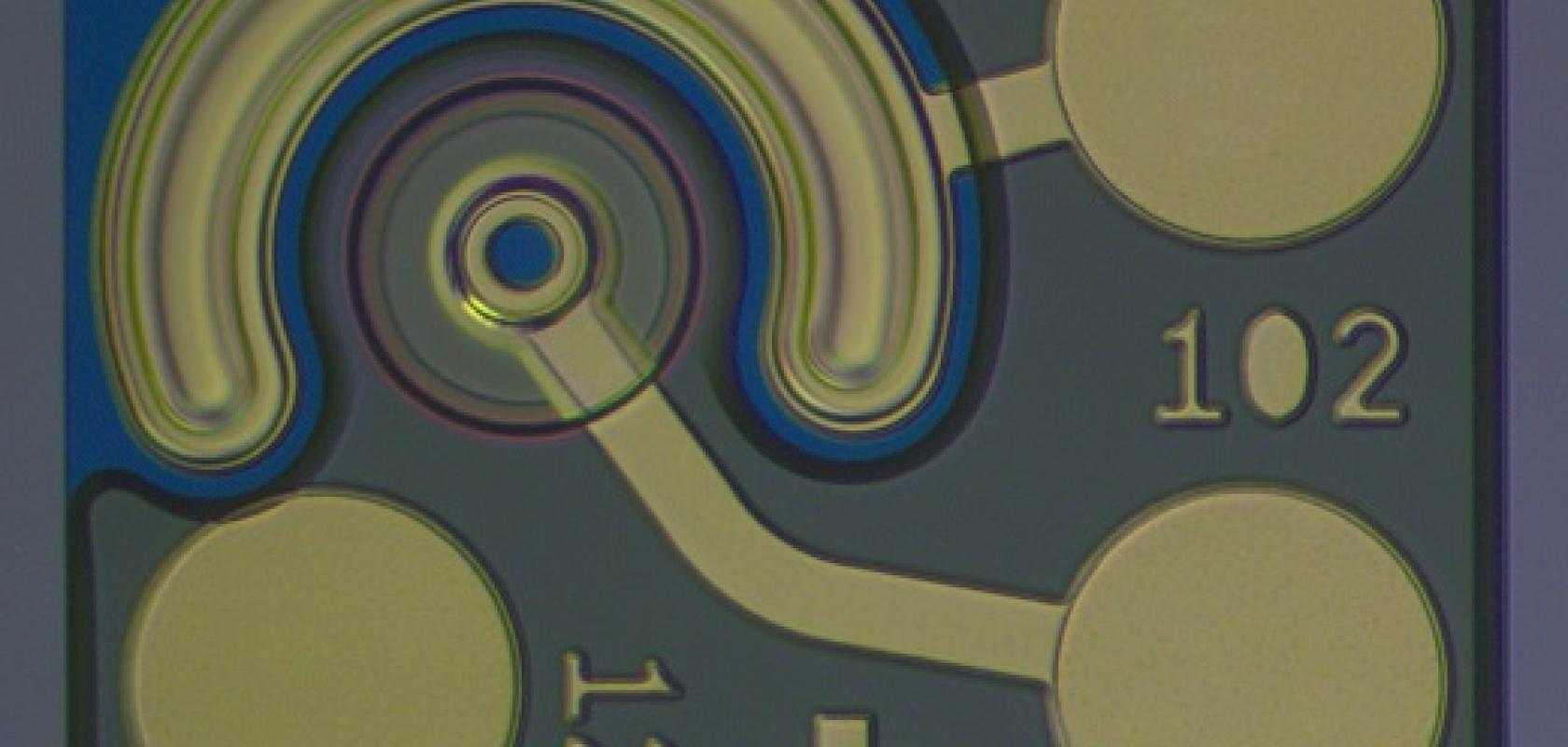 Image caption: An example of an II-VI datacom VCSEL chip. Credit: II-VI
According to the latest predictions from research firm Markets and Markets, the vertical-cavity surface-emitting laser (VCSEL) market is set to be worth $3.1 billion by 2022, rising at a compound annual growth rate (CAGR) of 17.3 per cent from its valuation in 2015.
The automotive sector is amongst the biggest drivers for the market growth, but in data communications, VCSEL laser sources have been long-established. Optical transceivers use lasers to transmit information over multimode fibre-optics. These transceivers allow networking equipment and servers to communicate over distances up to 300m within data centres, and VCSELs are the enabling technology within a transceiver due to their small size, reliability, volume scalability and cost effectiveness. This places them ideally for use in high-speed communications and they are currently becoming more widely acknowledged for their ability to enable technology across new and varied applications, such as touchless sensing, chip-to-chip interconnect and gesture recognition.
In a recent development, a research group consortium has incorporated VCSELs with silicon photonics to develop long wavelength, high capacity communications. The group, coordinated by the Politecnico di Milano, believes that the light source promises to make an even greater mark on fibre optic communications by improving efficiency and increasing data speed. It has secured a grant of €7,535,747 from the European Commission under the H2020 funding programme and was funded under the Photonics Public Private Partnership for its work with VCSELs. 
A passion for VCSELs
The group – known as the PASSION Consortium – is looking to exploit the aforementioned benefits of VCSELs, as Professor Pierpaolo Boffi, project co-ordinator explained: 'VCSELs are a bit of a buzz word at the moment. They have the advantages of low driving current, high light-power conversion efficiency and high directivity. This makes them an ideal choice for transmitting huge amounts of data in a low cost, energy-efficient way. PASSION will come up with new transmission, detection, and routing solutions as well as an advanced network architecture based on innovative laser sources. These solutions ensure a transmission rate of more than 100Tb/s per link and a switching capacity of over 1Pb/s per node.'
One business that has extolled the virtues of VCSEL technology for some time is component and subsystem supplier, Finisar, which was so convinced of the laser diode's potential, that it became the largest customer of Honeywell – the company that lays claim to producing the first commercial VCSEL product in 1996.
Craig Thompson, vice president of marketing for 3D sensing at Finisar, explained: 'Because we're the largest multimode transceiver supplier, by default we became one of the largest producers of VCSELs. It just happened that we consumed everything we made internally. We recognised back then the future importance of having VCSEL technology inside Finisar, and so we ultimately made the decision to buy that Honeywell division.' The Honeywell VCSEL group was acquired by Finisar in March 2004.
You know it makes sense
The Honeywell facility became Finisar's fabrication site in Allen, Texas, just north of Dallas, and it is still operational today. 'In fact,' said Thompson, 'it has grown substantially over the last couple of years, mostly for the interest in VCSEL technology for 3D sensing applications in consumer electronics and automotive.' The Allen factory has also been the manufacturing base for the VCSELs used in communications applications, and the company has increased its capacity at that site by five times in recent years, just to reach the demand for the sensing market. 'That facility is packed to the gills,' admitted Thompson. 'I don't think we could fit another piece of equipment in there at this time. We'd been thinking for some time that we needed to expand.'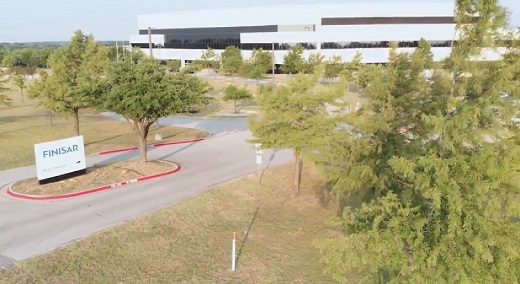 Finisar has opened a manufacturing facility in Sherman, Texas, to increase the production capacity of its VCSELs. (Image: Finisar)
The planned expansion was given a welcome nudge towards the end of last year after Apple awarded the firm $390 million as part of a commitment to support innovation and job creation by American manufacturers. Finisar has now opened a new manufacturing facility in Sherman, Texas, to increase the production capacity of its VCSELs and related 3D sensing technologies – the official ribbon-cutting for which was held on 9 July.
'We would've expanded regardless,' said Thompson. 'But the announcement we made with Apple back in November really pushed us to accelerate the expansion in our manufacturing base. We purchased the facility in Sherman, Texas – about 30 miles north of our current site in Allen – and we've been extremely busy in the last six months kitting that facility out. Our ribbon-cutting ceremony was essentially the point at which we started to turn on the first tool. We have a working clean room in there now and are starting to run first wafers. Our plan is to be in full production by the end of this year.'
All-encompassing
The new facility will allow for every aspect of VCSEL production. 'We grow our own epitaxy, we fabricate the laser devices, we do all the back-end processing, final tests and ship out of that facility,' said Thompson. 'That's pretty unique in the industry, especially at that scale. Other companies have to rely on foundries to reach that scale and no one foundry can do it all, so we're in a unique position to be able to manufacture enough VCSELs to satisfy the communications, as well as the sensing markets.'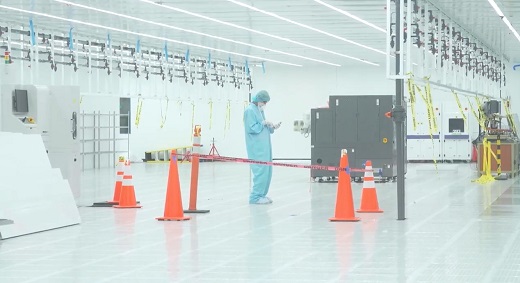 Finisar's new facility allows for every aspect of VCSEL production, from growing epitaxy to fabricating the laser devices. (Image: Finisar)
Also investing to increase VCSEL production is engineered materials and optoelectronic components manufacturer II-VI, which acquired Kaiam's UK-based six-inch wafer fabrication facility last summer. The facility was complete with what president and chief executive officer of II-VI called at the time 'one of the best clean rooms in the entire compound semiconductor industry'. Amongst the strategic reasons behind the acquisition was the ability to add to the business's in-house capacity for VCSELs. Michele Agresti, product line manager, datacom VCSELs at II-VI, revealed that the company is also developing VCSELs for 400G transceivers and closely monitoring the trends towards multi-wavelength datacom transceivers, which combine the standard 850nm VCSELs with others emitting in the 900nm range.
Agresti is not surprised that industry reports predict growth for VCSEL technology. 'We see a broad range of industries leveraging the cloud to drive more of a digital economy, as broadband connectivity and speed continue to increase and personal devices expand digital options for consumers,' he explained. 'Each of these human-to-machine interactions generates multiple machine-to-machine communications within the cloud's infrastructure, causing the rapid growth of traffic in hyperscale data centres.'
What's the alternative?
The advantages of VCSELs over some of the alternative technology available, both at the manufacturing stage and further along the supply chain, arguably play a big part in their success story. Agresti certainly believes so. 'In VCSELs the laser cavity is perpendicular to the plane of the wafer,' he said. 'In EELs [edge-emitting lasers], the laser cavity is in the plane of the wafer. Therefore, in manufacturing, VCSELs can be tested on the wafer, a highly efficient and automated process that validates device performance and therefore improves yield at the component assembly level. VCSELs' small size compared to EELs – additionally increases the number of chips-per-wafer and lowers the cost of production. LEDs were used in the 1990s for transceivers emitting in the hundreds of Mb/s range but were replaced by VCSELs as bit rates increased into the Gb/s range.'
For II-VI customers, said Agresti, 'transceivers based on VCSELs offer the most optimised cost and performance points for transmission within data centres between 10 and 300m. Below 10m, copper cables still dominate but will eventually be replaced by fibre optics as data rates increase. For links greater than 300m, single mode fibres are required to eliminate signal degradation due to mode dispersion.'
While more and more sectors realise the benefits VCSELs provide in terms of efficient manufacturing, reliability and testability; as with any growing market, there must also be some challenges. 'I think the advantages of the VCSEL technology well outweigh any disadvantages,' reasoned Thompson. 'Most of the challenges of scaling the technology are just in practical operational profit development work that needs to be done.
'The laser industry has been a relatively small industry for a very long time and we're now starting to borrow from the learnings and the technology that has been in other three-to-five technologies – like RF amplifiers for example – that have advanced fab technology to larger wafer sizes and finer feature sets.
'It's all about bringing in the accumulated knowledge from those other industries into the laser industry to raise it to the same level.'
Agresti largely concurred: 'VCSEL technology has been available for many years. It is well known but new designs are introduced periodically to enable higher transceiver bit rates. VCSELs are currently shipping in volume for 100Gb/s transceivers.
'For 400Gb/s transceivers, new VCSEL designs are coming to the market that operate not only at higher speeds but also achieve the linearity requirements for PAM-4, a modulation format with four logic levels of amplitude. But to ensure commercial success, such technology advances must be combined with demonstrated outstanding reliability and competitive prices.'
Sustained demand
As to whether the demand will be sustained in line with industry forecasts, Agresti is positive. 'We believe that the growth of the VCSEL market will continue to be driven by the demand for multimode transceivers for hyperscale data centres,' he explained.
'We do believe [the demand] will continue to grow,' agreed Thompson. 'We're in the beginning phases of this cycle of adoption of VCSEL technology in consumer electronics, automotive and the new communications market. It's always hard to predict exactly how far this will grow. The fundamentals suggest that we are just at the beginning of a pretty rapid five-year growth cycle in VCSEL technology and we're investing at a rate that supports that growth, so our expectation is that high-speed multimode fibre communications become more pervasive not less, especially as copper interconnect starts to run out of steam.
'This is starting to be a very real phenomena, and we also see on the 3D sensing side, really we're just at the tip of market adoption. It's Apple today and a whole bunch of consumer mobile electronics companies following very quickly. Then we have the automotive industry, with 3D cameras inside the car and LiDAR and 3D cameras coming outside of the car.
'A VCSEL in a sensing application is different to a VCSEL in a communications application in many respects. There probably are common fundamentals – they're all in gallium arsenide material systems, they all use the same basic processing techniques.
'The product designs could start to diverge, so we're investing in next-generation communication VCSELs to get us to 50Gb/s and beyond with multi-level signalling techniques such as PAM 4, which the Ethernet industry is adopting. We are investing heavily to push VCSELs into mainstream usage, much like the LED industry did going back 10 years, and we're very excited to finally get recognition for a great technology. It's going to be a very exciting couple of years for VCSELs.'
Related articles  
VCSELs in every home, every mobile device and every car - Despite having already been around for more than 40 years, VCSELs are still in the beginning of their life cycle. However, the technology is set to reach its full potential in the new future, writes Dr Joseph Pankert, general manager at Philips Photonics
EU project enables automated high-volume VCSEL production