Ford's Argo AI acquires Princeton Lightwave
Argo AI, an artificial intelligence subsidiary of Ford that produces software for autonomous vehicles, has acquired lidar firm Princeton Lightwave to accelerate the development of its own self-driving technology. The firm intends to use the technology that underpins Princeton's lidar sensors to extend the range and resolution of its own sensory offerings.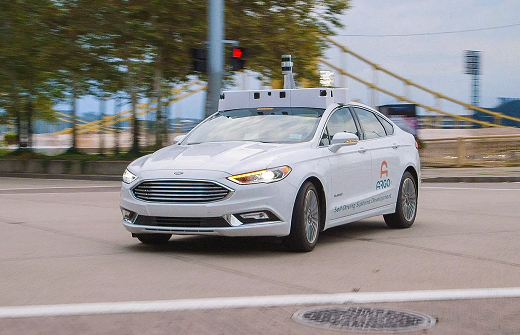 Argo AI will help Ford develop an affordable autonomous system for a self-driving vehicle that it plans be on roads by 2021. (Image: Argo AI)
In February, Ford announced its investment of $1 billion over the next five years into Argo AI, a startup formed by CEO Bryan Salesky, a multi-year veteran of Google's self-driving team, and COO Peter Rander, the previous leader of Uber's autonomous endeavours. Through the partnership Argo AI will help Ford develop an affordable autonomous system for a self-driving vehicle that it plans be on roads by 2021.
'Princeton Lightwave's technology [which also serves the commercial mapping and defence industries] complements and expands the capability of lidar sensors already available to the automotive industry today,' Salesky commented on the acquisition. '[It] will help us unlock new capabilities that will aid our virtual driver system in handling object detection in challenging scenarios, such as poor weather conditions, and safely operating at high speeds in dynamic environments.'
The expanded Argo and Princeton team will focus on accelerating the development of a virtual driver system mandated for SAE levels four and five, meaning it will operate without the need of a driver behind the wheel.
Ford has spent more than a decade on autonomous vehicle research, in a bid to achieve fully autonomous driving capability. Last year, in addition to investing a combined $150 million into Velodyne Lidar – a firm that develops technology for automotive, UAV, industrial and mapping applications – with Chinese search engine company Baidu, Ford demonstrated its lidar sensing system can function independently from cameras and radar by having an autonomous vehicle equipped with it guide itself through a desert environment.
Funding and collaboration for automotive lidar
According to market research firm Yole Développement, the automotive lidar market is set to reach $1.4 billion by 2022, and will make up more than 30 per cent of the overall lidar market over the next five years, which itself is expected to be grow to $4.4 billion in 2022.
With the technology therefore offering exciting oppurtunities, a number of lidar firms offering systems for autonomous vehicles have recently received investment and partnership offerings that will bring their technology closer to being commercialised on a wide scale.
One such firm, Innoviz Technologies, who in August entered a commercial partnership agreement with Delphi Automotive, has recently announced an extension of its series B funding round to $73 million. The new investments come from Samsung Catalyst, a Samsung Electronics early stage venture capital fund, and SoftBank Ventures Korea, a SoftBank Group early stage venture capital arm based in Seoul.
This latest financing brings Innoviz's total funding to $82 million, with previous funding in coming from Delphi Automotive, Magna International, 360 Capital Partners, Glory Ventures, and Naver, amongst others.
The additional funding comes as Innoviz's lidar solution enters volume manufacturing, according to Omer Keilaf, co-founder and CEO of Innoviz: 'With our LiDAR solutions moving into mass production and getting ready to begin shipping in early 2018, the backing from companies such as Samsung, SoftBank Ventures Korea and all the rest will enable us to scale our operations as we focus on not only LiDAR but the entire autonomous vehicle stack. We were excited to see such a high level of interest in our Series B round from such an impressive list of top-tier investors and strategic partners.'
Innoviz's lidar technology leverages the company's system, MEMS and detector designs to deliver highly accurate and long ranging sensing capabilities. The system is also offered in a solid-state design, enabling lidar to be delivered in a more compact, reliable device at a significantly reduced price.
'Innoviz has proven that it is much farther ahead than other lidar developers in bringing powerful, dependable lidar to mass market,' commented JP Lee, managing director and partner of SoftBank Ventures Korea. 'Innoviz shares our passion for changing the world through innovative technologies.'