UK to build semiconductor industry through niche strength - Government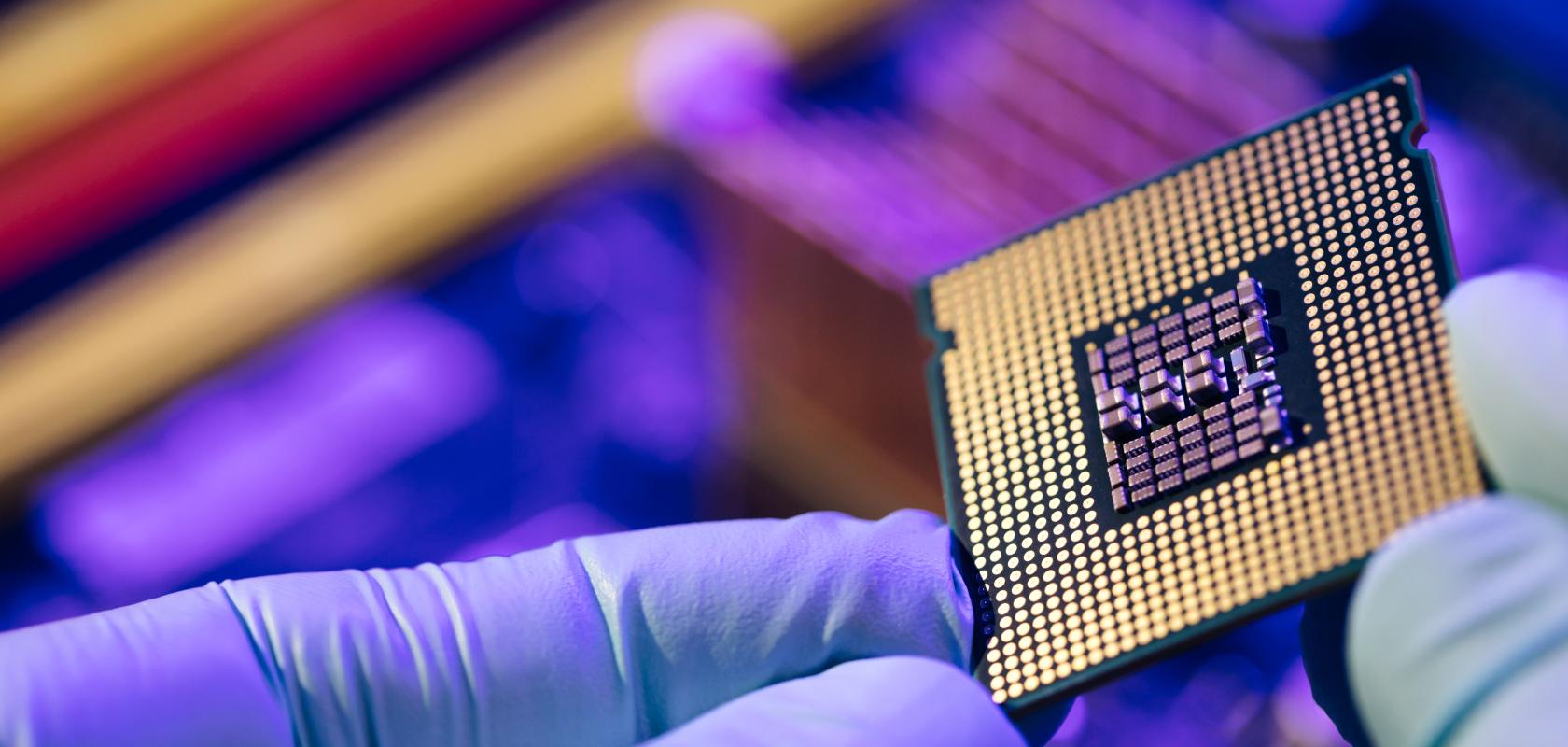 An upcoming strategy seeks to build on Britain's photonics-enabled niche competencies rather than build a whole supply chain from scratch. Jessica Rowbury reports
Within the next few months, the UK Government will follow other regions in publishing a semiconductor strategy that aims to build a more resilient supply chain and gain a competitive market share. 
But with less of a manufacturing base to build on than Europe, the United States, and Asia, the UK will look to bolster its domestic strengths such as chip design, compound semiconductors, and R&D, rather than attempt to onshore complete supply chains, an audience at the SPIE Photonex conference in December 2022 heard.
The idea of creating 'a single front door', which would bring together regional and nice competencies, was also discussed as a way for the UK to make an impact on the international stage.
The discussion took place on 7 December in Birmingham during a special event on Compound Semiconductors. This involved industry members commenting on the upcoming plan to a policy adviser within the Government's recently-formed semiconductor team. 
Catching up
Last year, the EU and US announced significant funding and support structures to expand local semiconductor industries. The European Commission's €43bn European Chips Act, announced in February 2022, aims to increase the region's semiconductor manufacturing market share to 20 per cent by 2030, up from about eight per cent now.
In the same month, the US, which has a similar share of the semiconductor market to Europe, passed the Chips for America Act investments. These total $52bn to strengthen domestic semiconductor manufacturing and research. 
The UK, which is yet to publish its strategy, risks "missing out on inward investment at a crucial time for the semiconductor industry" as it competes with other countries, a recent report from the British House of Commons select committee stated. "The Government should lose no more time and should publish its Semiconductor Strategy immediately," the authors said. 
A different approach
While the UK is an important part of global semiconductor supply chains, its reliance on other countries means the UK alone will not have an end-to-end supply chain for semiconductors, but it has tradeable strengths, the House of Commons report found. 
"We're not going to attempt to onshore the whole supply chain or import high end silicon manufacturing, like they've done in the EU and in the US, because we don't have the base to build on. But what we do want to have is a really strong domestic sector, which we can bring to these multinational discussions, and we already have a strong niche that we want to build," said Richard Duffy, a senior policy adviser at the Department for Digital, Culture, Media & Sport (DCMS).
The UK Government has identified three of the UK's major niche strengths as being in chip design, compound semiconductors, and research and development. 
Bringing together regions and competencies
An industry member in the audience commented on the value of bringing together the various regional different clusters, which at the moment are quite distinct.  
Duffy concurred: "We can create a single front door for the UK by having something that convenes all the different players so that organisations internationally know where to come to access the sector. And that needs to involve all of the regional clusters. 
"I don't think that there's a kind of mutual exclusivity between developing regional clusters and bringing it together internationally," Duffy added. "We do think we need a new body to facilitate that. That's what we're hoping to set up, and it's warming. Hopefully, that can be that front door, and the kind of umbrella perhaps for the national sub-capabilities."
However, Wyn Meredith, Director of the Compound Semiconductor Centre in Wales, said it is more important to properly define regional capabilities, to understand how they relate to one another to subsequently combine the country's core competencies: "Beginning to have more regional coordination in terms of the message… is a good start. But we should not get carried away with the regional element… One of our bigger problems is more around the levels of activity we have in different parts of the supply chain in semiconductors," he said. 
"In the UK, there are several distinct areas. We have vibrant equipment and supply chain activity in semiconductor materials manufacturing equipment, which is quite fragmented, and has its own representation in bodies," Meredith said. "We have a very, very strong critical mass of silicon design activity in Cambridge and the Fens and also spreading out into the southwest of England, which again, is a very identifiable technology area – but is very different from the emerging semiconductor areas like compound semiconductors, organics and new technologies.
"We really need to understand our strengths before we start these interventions. If we treat it as a monolith, we will fail," said Meredith.
There has been a huge amount of input into DCMS, Meredith said, to help understand the nuances of the separate sectors within the UK semiconductor industry, such as where there are opportunities to build on, as well as where gaps need to be filled in order to expand local industries.
Chris Meadows, Director of CSconnected, the compound semiconductor cluster in Wales, suggested using organisations that support innovation, such as the Compound Semiconductor Applications Catapult, to help bring competencies and regions together. "We see a fantastic opportunity to connect the different clusters around the UK because all of them have a different end market and specialisation. When you start to combine those end markets between Northern Ireland, Scotland, into the Northeast and the Midlands, and when you start leveraging and multiplying all of those, it becomes a sizable growth opportunity for the UK.