BMW sets up automated additive manufacturing line for car parts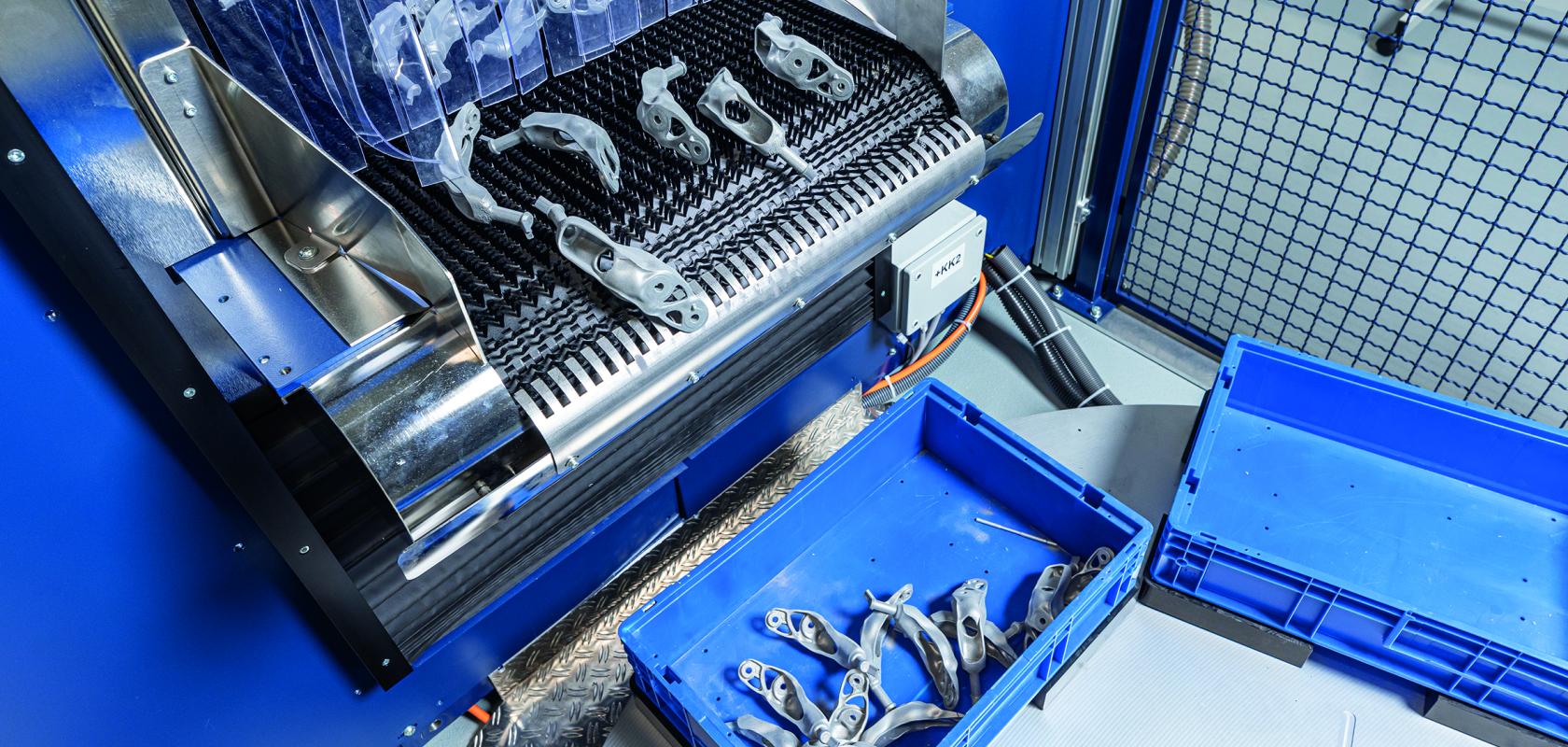 BMW's 3D-printed components are transported to specially designed, fully automated post-processing stations (BMW Group)
BMW Group will use additive manufacturing to produce 60,000 car components annually.
A digitally connected, fully automated 3D printing manufacturing line has been set up and prepared for automotive standard production at the car maker's Additive Manufacturing Campus in Oberschleißheim, Germany. An additional line has been established at GKN Powder Metallurgy's site in Bonn.
The achievement is the result of a three-year (2019-2022) undertaking by BMW Group and its partners within the IDAM (Industrialisation and Digitalisation of Additive Manufacturing) project, which aimed to revolutionise metal 3D printing in standard automotive production.
The new lines will use laser powder bed fusion (LPBF) technology to produce around 50,000 components per year in common part production, as well as more than 10,000 individual and new parts. Using LPBF means certain tools are no longer required and new design possibilities can be realised – which greatly increases flexibility and cost-effectiveness.
Fully automated driverless transport systems are used to carry the 3D printers' mobile build chambers and metal powder between modules in the two new IDAM production lines. Manufactured components are then transported to specially designed post processing stations, which are also fully automated. The machines are orchestrated by a central control unit that consolidates all production data from individual line modules to ensure maximum productivity and quality.
Quality assurance of the finished parts takes place in-line, during the laser melting process, using sensors. This includes checking emissions from the molten pool with a CMOS camera and pyrometer. AI algorithms are used to correlate the data collected with actual component quality. This means process deviations can already be identified during production and component quality evaluated.
Other partners in the project included Aconity, BMW Group, Concept Reply GmbH, Fraunhofer ILT, GKN Powder Metallurgy, Intec, Kinexon Industries, Myrenne, RWTH Aachen's Chair for Digital Additive Production DAP, Technical University of Munich's Chair of Metal Forming and Casting, Schmitz Spezialmaschinenbau, and Volkmann.