Electro Optics November is out now!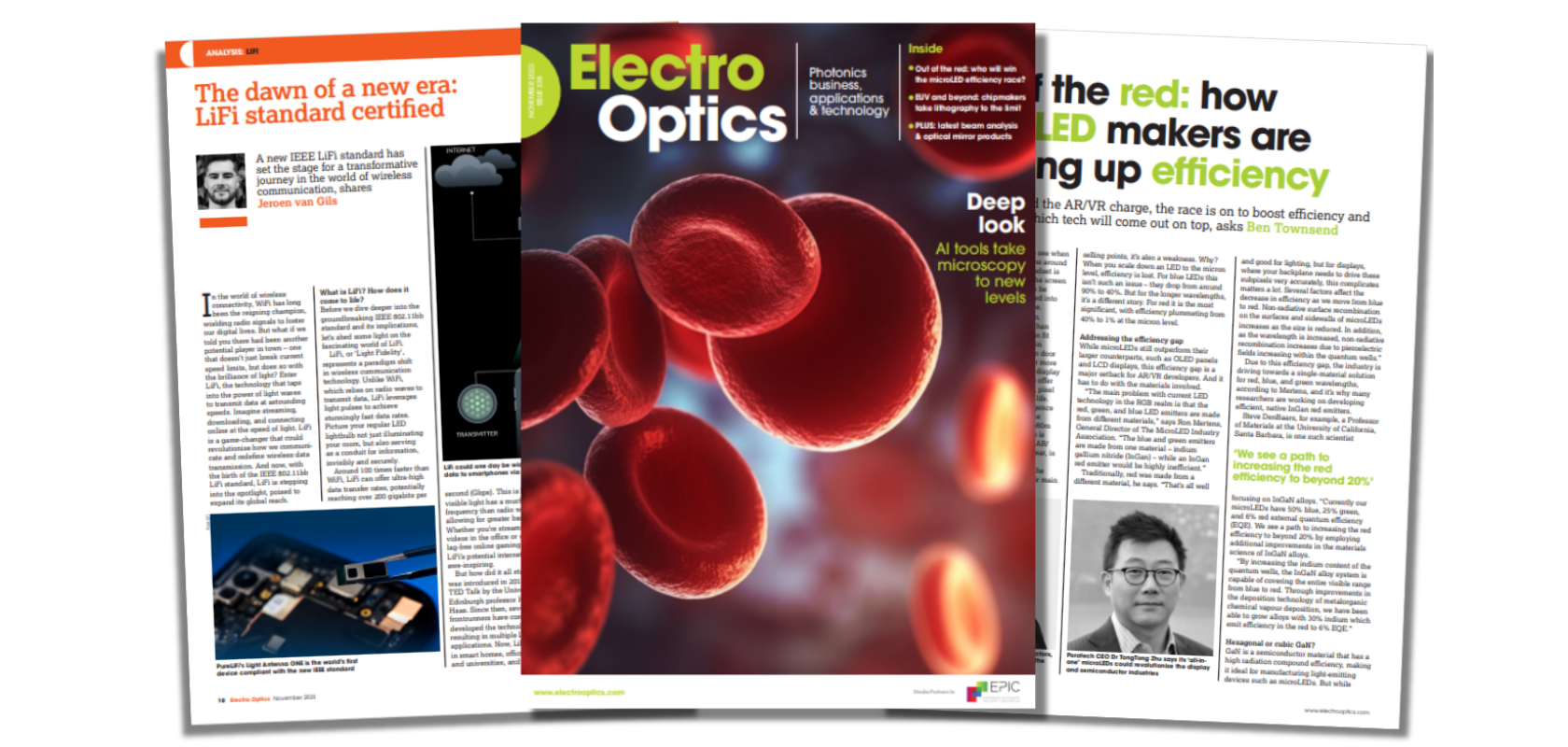 Electro Optics is proud to announce the launch of our November print issue! 
This month we have articles exploring the increasing efficiency of microLEDs, advances in lithograpghy for microchip manufacturing, the application of deep learning in microscopy, and more!
If you aren't subscribed and would like to receive a print issue of Electro Optics to your door, or a digital edition to your inbox, you can subscribe at: www.electrooptics.com/subscription 
News
Features and analysis
Microscopy meets deep learning
Deep learning represents a solution to a number of microscopy challenges, however developers must carefully consider how they will be used by humans to ensure clinical success
Semiconductors: Pushing lithography to the extreme
Despite already existing at the cutting edge, innovation in lithography shows no signs of slowing down
Ramped up microLED efficiency to address AR/VR boom
With microLEDs set to lead the charge in the AR/VR boom, the race is on to increase their efficiency. But which technology will come out on top?
The dawn of a new era: LiFi standard certified
A new IEEE LiFi standard has set the stage for a transformative journey in the world of wireless communication
Case studies and white papers
Lumencor's laser light engines for advanced fluorescence imaging
A look at the importance of the light source when increasing spatial resolution in fluorescence microscopy
The HDR frontier and the need for precision
Learn how Admesy's Prometheus Colorimeter has been seamlessly integrated into FF Pictures' InnoPQ HDR measurement system, revolutionising the fields of quality control, research, and development
Testing and measuring microLEDs at the speed of light Open configuration options
How swift testing is playing a crucial role in unleashing the power of microLEDs
Technology focus
The latest beam analysis products for 2023
A look at the current market for beam analysis and some of the photonics products, tools and instruments available
The latest optical mirrors for 2023
We detail the commercial product offerings from some of the main players in optical mirrors