New UK innovation to support commercialisation of quantum tech
The world's first open access Quantum Technologies Innovation Centre (QTIC) is set to be established at the University of Bristol in the UK by 2021, with the objective of commercialising quantum research and positioning the UK as a global leader in the field of quantum technology.
The £43 million facility will be based in the University's new £300 million enterprise campus at the heart of the city.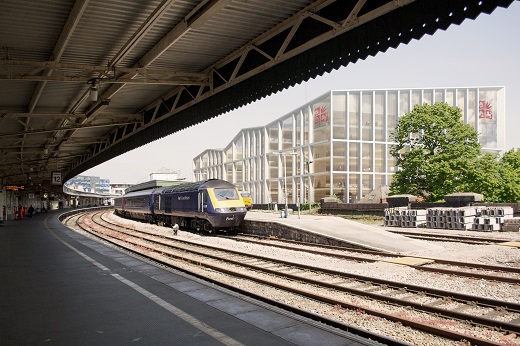 The new Quantum Technologies Innovation Centre will be located in the University of Bristol's new £300 million enterprise campus next to the Bristol Temple Meads train station. (Credit: University of Bristol)
The quantum world is set to make technology faster, smaller, more secure and, ultimately, more useful for a wide variety of applications. The UK government anticipates that the quantum technology industry will be worth £1 billion to the country's economy in the next 10 years.
At the new QTIC, more than 200 researchers will work in partnership with companies to develop quantum technology prototypes and establish new businesses. It is anticipated that the centre will lead to 9,000 new jobs and generate almost £300 million for the economy in its first 10 years.
The centre will be the focus of the design, development and prototyping of quantum devices for secure communications, new sensors, simulators and ultra-powerful computers.
It will also provide: affordable specialist incubation facilities for new businesses to create new products and services; access to a global network of quantum-inspired engineers, scientists, industrialists and entrepreneurs; and affordable access to outsourced semi-conductor chip fabrication.
'The opportunities are vast and very exciting,' said Mustafa Rampuri, programme manager for QTIC. 'Our aim is for the facility to be an internationally recognised centre for the engineering and commercialisation of practical integrated quantum technologies, enabling companies from any sector to co-create new products and exploit the quantum advantage.'
Airbus is one of the QTIC's leading industrial partners and seeks to develop applications in the area of satellite communications secured with quantum physics, to use ultra-powerful quantum computing and to adopt sensing beyond the precision of today's technology.
'We are looking forward to working with QTIC and the University of Bristol on quantum topics to support and establish a supply chain for these technologies, essential for our future ability to bring quantum enhanced platforms to market,' said Paolo Bianco, R&T co-operation manager at Airbus.
'QTIC's work with the SME community aligns perfectly with Airbus' aspiration to work with a variety of partners to development such technologies,' he continued. 'Our aim is to eventually adopt these in the Airbus portfolio to generate new products and supply customers with leading edge capabilities which grows and future proofs our business.'
The UK government strives to make the UK a 'go-to' place for the development and commercialisation of quantum technologies, having invested £270 million over five years into a National Quantum Technologies Programme to accelerate the translation of quantum technologies into the marketplace.
The University of Bristol's Quantum Information Institute is already working on a new generation of machines that exploit quantum physics, including secure quantum communication systems; ultra-powerful quantum computers for machine learning and big data challenges; quantum simulators for designing new materials, pharmaceuticals and clean energy devices; and sensors with quantum precision for use in environmental monitoring, biomedical and security applications.
The University predicts it will be able to help to establish over 40 new quantum businesses, which in turn will benefit from the facilities on offer at QTIC.
The QTIC has been funded by £15 million from the West of England Local Enterprise Partnership, £21 million from industrial partners and £7 million from the University of Bristol.
This year's Laser World of Photonics in Munich had a distinct emphasis on quantum technologies. As the European Commission prepares ground for a €1 billion flagship funding programme, set to launch in 2018 and last for 10 years, the photonics community is readying its support for quantum science and quantum-based products.
Related News: