Pilot line to lower PIC production costs for SMEs
A €13.9 million EU project to build a photonic integrated circuit pilot production line for European SMEs has begun in Eindhoven.
Led by the Eindhoven University of Technology, the Open-Innovation Photonics pilot for North West Europe (OIP4NWE) aims to help establish a thousand integrated photonics firms within ten years after the line becomes operational in 2022. The goal is to reduce production costs, which will lower the threshold for developing new photonic products.
The project has 12 partners and is supported by the European regional development fund.
One of the main hurdles to developing photonic integrated circuits (PICs) is the high cost involved in R&D. PIC production requires expensive equipment, and the production processes still have a high defect rate and are too slow. OIP4NWE aims to reduce the defect rate in pilot production and shorten throughput time.
In an article for Electro Optics on the photonic foundry ecosystem, Iñigo Artundo, CEO of VLC Photonics, noted that the two pioneers offering multi-project wafer runs for indium phosphide are the R&D institute HHI in Germany, and the company Smart Photonics in The Netherlands. 'No other foundry offers shared runs at the moment, but many others do have processes that can be used to manufacture photonic integrated circuits,' he commented.
OIP4NWE's front-end process – the production of PICs on indium phosphide wafers – will be built in Eindhoven University's existing cleanroom facility. PICs from different companies will be combined on one wafer to keep costs low.
The back-end processes will be done at two separate locations: the optics for beam shaping and light coupling will be made at Vrije Universiteit Brussel, while assembly of fibre optic connections and electronics in the package will take place at Tyndall National Institute in Cork, Ireland.
All steps require nanoscale precision to avoid product defects.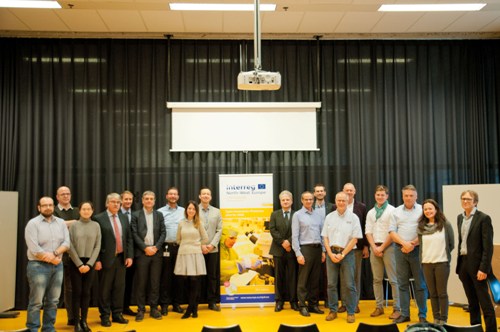 The kick-off meeting for the project took place in November
The first stage of the project is equipment installation; the second stage focuses on automation of the equipment, while a third stage will involve – together with equipment manufacturers – industrial research to optimise and develop new processes.
The line should be fully in operation in 2022; a voucher scheme for external SMEs will be set up in order to entice companies to use the line.
The other parties involved in the project are: Aixtron in Germany; Smart Photonics, VTec Lasers and Sensors, and Technobis Fibre Technologies from The Netherlands; mBryonics in Ireland; and Oxford Instruments Nanotechnology Tools from the UK. Research centres Photonics Bretagne, France; cluster NanoMikroWerkstoffePhotonik.NRW, Germany; and Photon Delta Cooperatie, The Netherlands are also involved.
The EU is funding €8.3 million, with the remainder investment coming from the participating parties.