Avantes; 25 years of innovation in spectroscopy!
This April, Avantes will celebrate their 25 years of success in the production and development of spectrometers. Avantes started its activities 25 years ago in a shed in Eerbeek as a distributor of optical instruments. They started adding their own value to the products they sold and have evolved into a multinational organization with offices in the US and China. Since the move to their state-of-the-art, 2700 square meter facility in Apeldoorn in 2011, Avantes has also been supporting local initiatives to stimulate technical innovations,  technical education and traineeships. They are an active member of Photonics NL and EPIC (European Photonics Industry Consortium)* as well. Both important associations of the Photonics Industry. 
"Since the move to Apeldoorn in 2011, Avantes has doubled in both revenue and number of employees! Thanks to continuous investments in innovation, Avantes is able to remain a frontrunner in the area of spectroscopy." – Benno Oderkerk, CEO of Avantes
To meet this growing demand they have optimized and automated their production department as well as their professional organization. This investment reinforced their management structure, the R&D department, Operations and Marketing Team. As of 1 January, the board has been expanded with René van der Pot to strengthen the Board of Directors. Mr. van der Pot has a background in financial business administration. He started at Ernst & Young and has worked at several production companies as a financial controller or director. He joined Avantes in January of 2012 and is excited to add his experience and ideas to the further growth and development of Avantes worldwide.
"Currently, Avantes employs more than 100 professionals worldwide; in the Netherlands, Germany, China, USA and United Kingdom. With the solid growth in the recent years we are always looking for professionals in the industry to join the company." – René van der Pot, CFO of Avantes
Let's talk a bit about spectroscopy with this duo…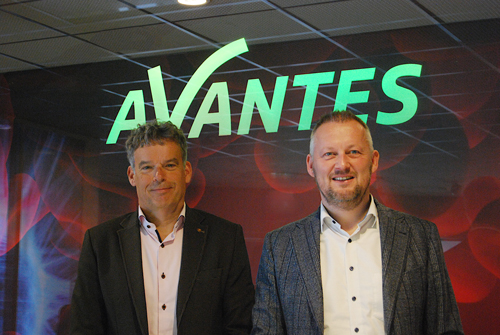 Have the applications of spectroscopy changed in the last few years?
Spectroscopy applications are increasingly being pursued in myriads of industrial and consumer applications. The capability of instruments and increasing sophistication of data analysis algorithms are making the applications more common and useful to industries, researchers and even consumers. Spectroscopy plays an important role in societal challenges that we face nowadays, for example it is being used in food safety, medical diagnosis, manufacturing efficiency and quality and many other mission critical applications. 
What are the most significant changes in spectroscopy in recent years? Can you give any examples?
A big development in spectroscopy applications has been the push for miniaturization. Novel instrument designs and new detectors are making it possible to pack better performance into smaller form factors. Of course, many of these new instruments are designed for specific purposes such as color measurement or water analysis but this trend represents disruptive change. These smaller spectrometers are a solution to original equipment manufacturers (OEMs) and have the potential to fuel a rush in development of commercial products utilizing spectroscopy.
Besides this, we have seen spectacular advancements in detector technology that have fueled some of the technological progress we've seen in the last few years. CMOS detector arrays have improved in their sensitivity so significantly that they are now replacing the traditional de facto CCD detectors. MEMS (microelectromechanical systems) based detectors and novel grating technologies are facilitating new opportunities for instrument cost reduction. At Avantes we are also pursuing automation in our manufacturing processes to reduce cost and improve instrument to instrument repeatability. 
Can you tell us about what's "hot" in this field today?
New communication protocols are being adopted as standards across the industry. Ethernet, wireless, and USB3 are being used for to deploy instruments into new environments without the limitation of being connected to a nearby host computer. The access to the cloud creates the opportunity to perform data processing of spectra in real time, remotely.  
What challenges remain and when might they be overcome?
To support the demands of the industry, developments of novel light source technologies for the UV and broad spectrum that are tunable to overcome detector and grating response inefficiencies are definitely needed. Additionally, researchers in agriculture and biomedical industries are identifying exciting new applications for near-infrared spectroscopy every day, but the high cost of NIR (specifically InGaAs) detectors present a challenge to the growth of these techniques. As a response to this we are developing a smaller, cost effective NIR-instrument to support these demanding innovations and retain our excellent position in the market.
Looking to the future …
With a quarter of a century of experience in spectroscopy, we are excited about future developments and innovations in the field. Our team is ready for the future and we are looking forward to many more years of contributing our knowledge to this exciting technology. There are still numerous aspects of spectroscopy that are ever evolving and we are in! 
* EPIC, the European Photonics Industry Consortium, is the premier industry association of the photonics industry in Europe with 431 members across 33 countries. The association engages in advocacy and business development efforts throughout Europe and hosts numerous networking and training events for members every year. https://www.epic-assoc.com/
Avantes is honored that Benno Oderkerk has been selected as President of the Board of this organization dedicated to fostering the development of the photonics industry in Europe. His dedication to the photonics industry embodies the Avantes mission to enrich the lives of mankind by providing innovative measuring equipment that helps us live longer, happier lives and protects the environment for future generations.