Quantum race will be long: Peter Leibinger in Munich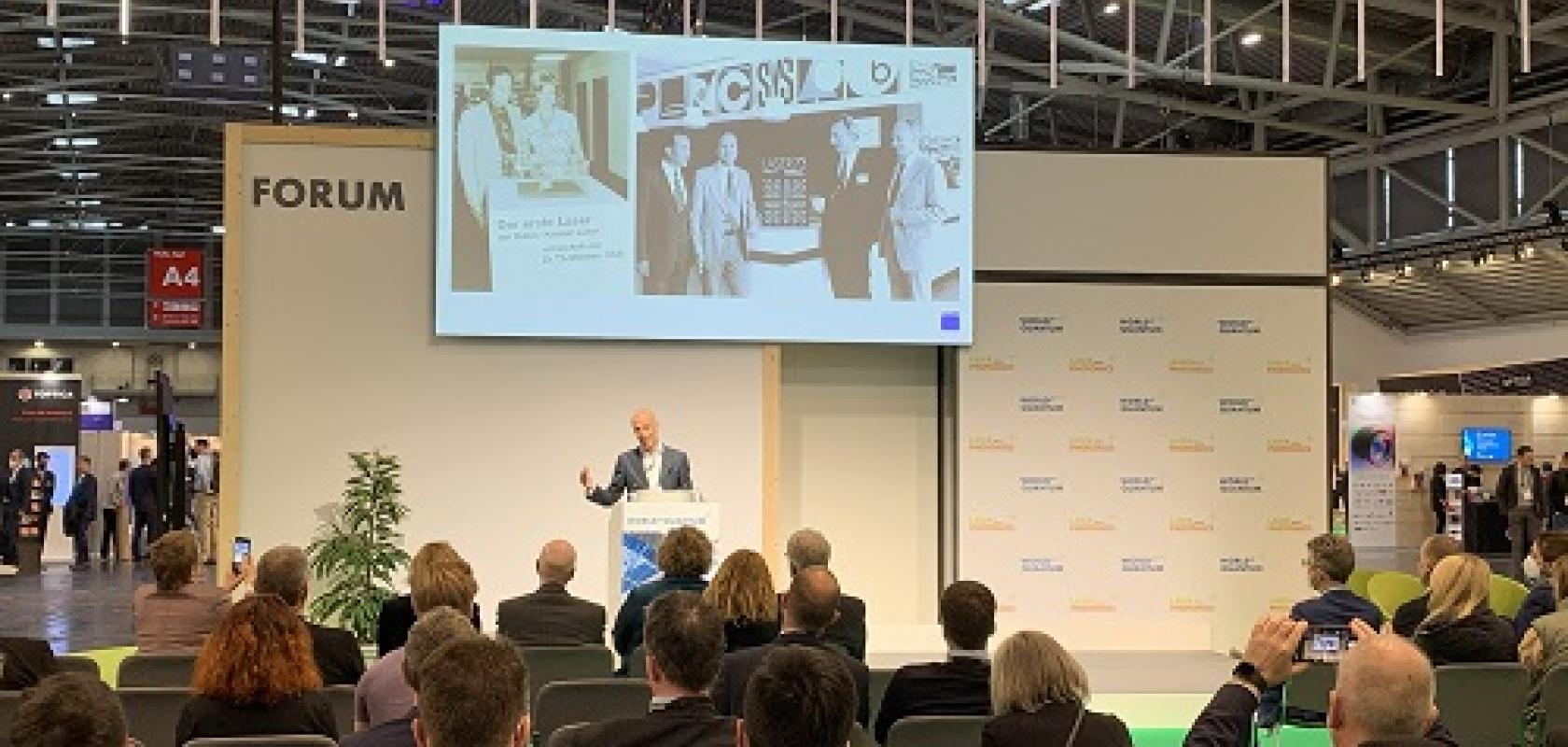 Dr Peter Leibinger, CTO of Trumpf, has called for a joined-up strategy on quantum technologies across different German government agencies on the first day of Laser World of Photonics in Munich.
Dr Leibinger made his address to the photonics community at the trade fair, which is hosting a World of Quantum hall and forum.
Germany has the world's second largest quantum technology government programme after China, according to Leibinger. Last year, Germany invested €2bn into quantum computing and related technologies over five years.
But Leibinger said that expectation management was key to avoid disillusionment, because, in the short-term at least, huge revenues won't be made on quantum technology.
He said: 'I do think that Germany [is in a] very good situation concerning quantum technology; we have a lot of small- and medium-sized companies that are investing in this technology.'
Leibinger pointed to both quantum sensing and quantum computing as two areas where the technology is seeing success and where photonic components play a role.
He said that quantum sensing is the first field where real-world products are starting to be delivered. He gave the example of the QSens research project – a collaboration between the universities of Stuttgart and Ulm and industry partners, including Q.Ant, which Trumpf owns – where a magnetometer has been developed to give patients some control over the movement of prosthetic limbs.
Quantum computing is the other area where a huge amount of investment is being made. Leibinger drew attention to what he called an 'heroic experiment' by researchers at the University of Science and Technology of China in Hefei, where they used the photonic quantum computer, Jiuzhang 2.0, to solve a problem 1024 times faster than a classical supercomputer.
Leibinger drew parallels between the embryonic World of Quantum exhibition that's part of Laser World of Photonics today, and the early days of the Laser Munich show itself, when, for the first 10 years, exhibitor numbers did not really grow.
He emphasised that communication is key within the quantum technology sector, and that growth in quantum technologies will be a 'very long race' that will require political support.
Interest in quantum technologies is strong at the moment, as the amount of money governments are willing to put forward shows, along with venture capital investment and the number of patents being filed. Photonics stands to gain from this investment, although some have made the point that governments focusing too heavily on quantum could detract from other worthy areas like photonics more generally.
Speaking to Electro Optics earlier in the year about the UK's quantum strategy, John Lincoln of the UK Photonics Leadership Group shared the statistic that 88 per cent of Innovate UK projects funded under the UK's Quantum Programme relate to photonics, while less than 8 per cent of the UK's 1,200 photonics companies have received support from the programme.
'To heavily fund one area is not intrinsically bad, and quantum funding has been accessed extensively in parts of the UK photonics industry, but when support is finite, it distracts from other worthy areas which may be able to offer more immediate return,' Lincoln said. 'As investors follow governmental lead, it also risks creating a bubble in that focus area (e.g. quantum) when expectations are not met – something seen previously in graphene and nanotechnology, which in the long term reduces investors' confidence in backing enabling technologies.'
Nevertheless, governments need to support the quantum sector to get commercial products made, and photonics firms are a vital part of the quantum technology ecosystem.