Satellite optical communications news roundup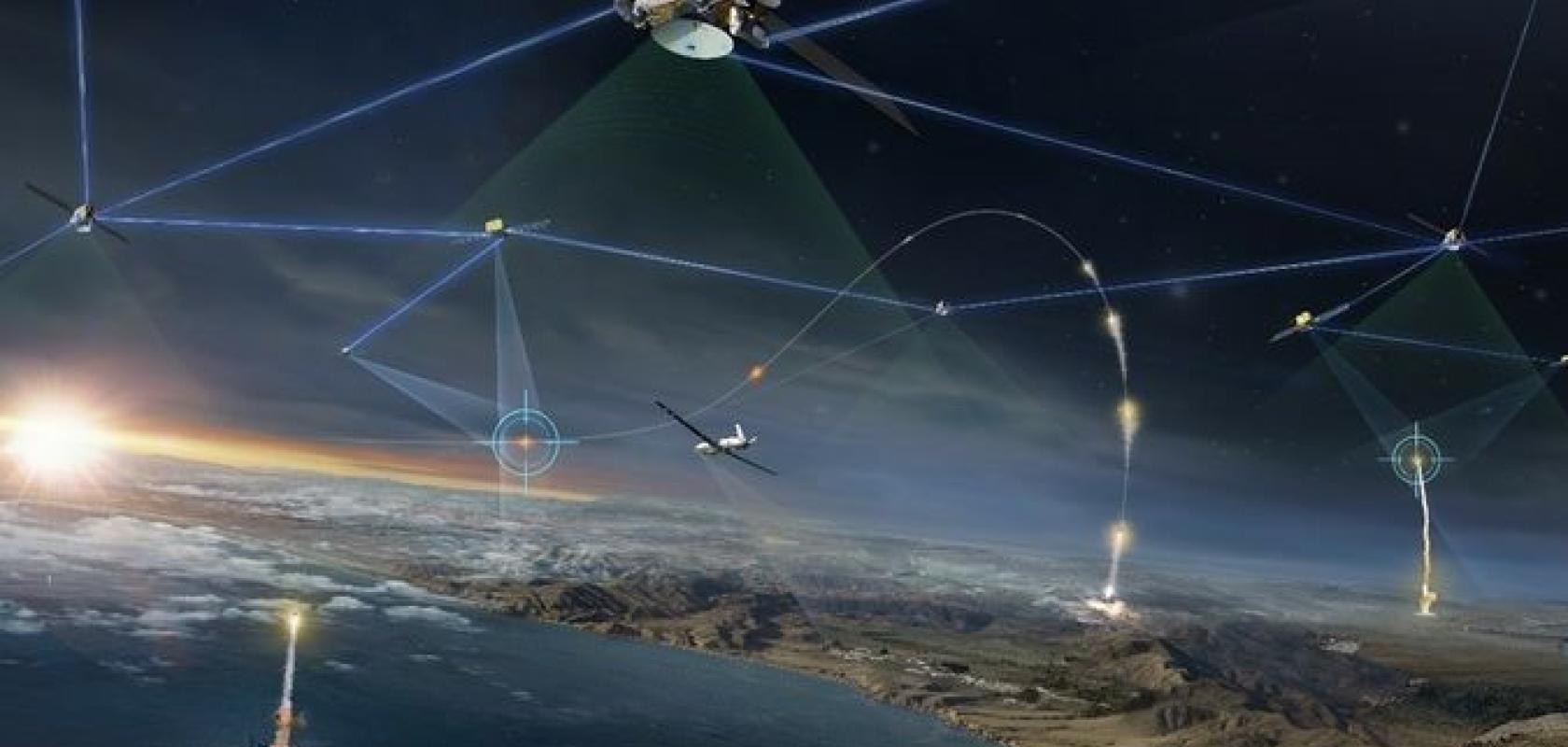 Sony launches new satellite communications company
Named 'Sony Space Communications' (SSC), the new subsidiary plans to adapt Sony's existing optical disc technology – developed over the years for CD players and other products – to realise optical communications devices that are ultra-compact, lightweight, mass producible, and can withstand harsh environments such as space.
The small devices will use laser beams to connect micro satellites in low earth orbit (LEO), both with each other and with ground stations on earth.
'Currently there are approximately 12,000 satellites in space, and the number is expected to increase in the future,' said Kyohei Iwamoto, president of SSC. 'The amount of data used in orbit is also increasing year by year, but the amount of available radio waves is limited. LEO satellites need to communicate with the ground, so a large number of communications facilities are required for real-time communications, which is problematic because these satellites must pass directly over a ground station to communicate with it. Additionally, the need for frequency licences for radio waves and the requirement for lower power consumption of communication equipment needed by smaller satellites, like micro satellites, are also issues to be addressed.'
SSC plans to offer optical communications equipment as a service to companies working on satellite development. It aims to realise high-speed communications with small devices, which are physically difficult to achieve with conventional radio communications due to them requiring large antennae and high power output. Optical communications also do not require the same frequency licences needed by radio communication, making them easier to implement. 
Related articles: Looking Skyward for Opportunity | A changing landscape in the space economy
By constructing an optical communications network not only between satellites and the ground, but also between satellites in orbit, SSC aims to enable a real-time internet communications network covering earth and space, enabling applications such as real-time services.
Mitsubishi Electric develops prototype of new optical receiver
Mitsubishi Electric recently announced the developement the prototype of an optical receiver for use in laser communication terminals (LCTs) on board satellites. The receiver is able to detect the direction of received beams in the 1.5μm band, which Mitsubishi Electric believes to be a world first.
The optical receiver features a photoelectric converter that receives laser light and converts it into electrical signals. The converter is divided into four segments and the direction of received laser beams is detected with high precision by comparing the output signal intensity of each segmented element. An optical circuit for coherent space optical communication detects four phase changes (0, 90, 180, and 270 degrees) in contrast to conventional two-phase (0 and 180 degrees) detection. As a result, communication capacity and speed are double those of two-phase optical communication schemes in the same bandwidth and some 10 times those of radio-wave communication systems.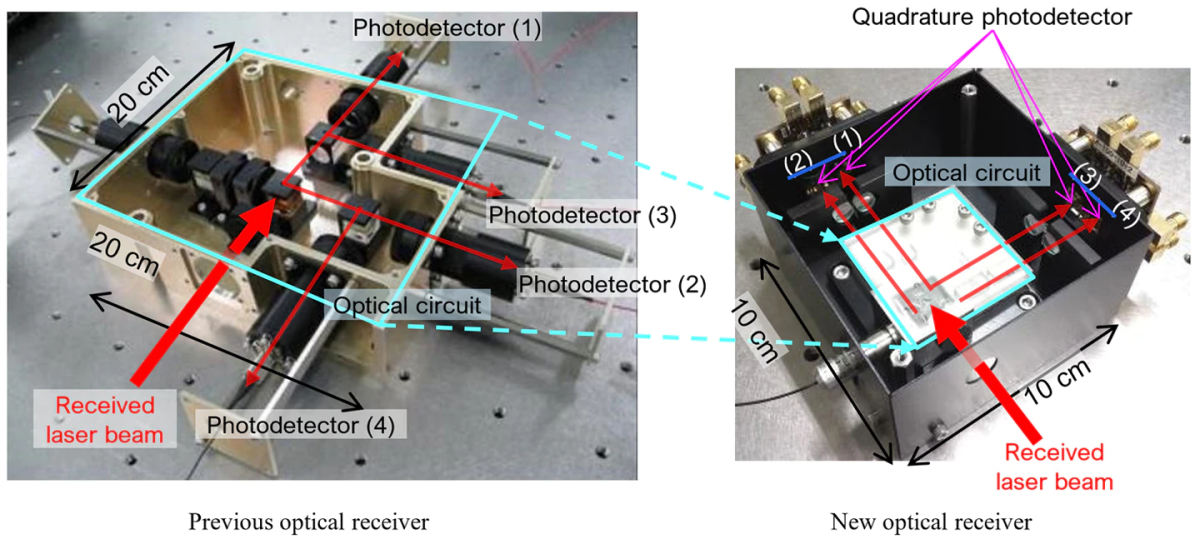 The coherent detection method enables communication even with weaker laser beams compared to the conventional method of detecting intensity changes due to beams turning on and off, thus enabling communication over longer distances using the same laser-beam intensity. In addition, the coherent method is less influenced by sunlight and other background light for more stable communications.
The photodetectors' beam-direction detection function eliminates the need for a dedicated sensor. Furthermore, the optical circuit is contained on a small 5cm-by-5cm glass substrate, mounting two photodetectors on a single printed circuit board. The single-module configuration realises a lightweight optical receiver measuring just 10cm3, less than one-quarter the size of Mitsubishi Electric's previous model.
–
Intersatellite optical communication test transfers 200Gb of data over 100km in 40mins
Back in May, US firm CACI International demonstrated space-to-space optical communications links in low earth orbit (LEO) in partnership with the Defense Advanced Research Projects Agency (DARPA) and the Space Development Agency (SDA) as part of the Mandrake II programme.
The successful test, carried out on 14 April using CACI's CrossBeam free-space optical terminals, saw the establishment of an optical link over a 40+ minute period, during which 200Gb of data was transmitted and received over 100km+ distances.
According to CACI, the test is a step towards establishing more secure, space-based communications networks for defence agencies using more powerful, efficient technology that can transmit more data, faster.
The Mandrake II programme aims to evaluate the pointing, acquisition, and tracking algorithms that allow for optical communication terminals to establish and maintain high-speed communication links. The work is being done for the upcoming Blackjack, SDA Transport and Tracking constellations.
The CrossBeam free-space optical terminals were developed by CACI's subsidiary SA Photonics, which it acquired in December last year. The CrossBeam technology provides satellite crosslinks and bi-directional satellite-to-earth links via low complexity systems, minimising size, weight, power, and cost (SWaP-C ). The terminals are aboard satellites specifically aimed at demonstrating and supporting a communication capability for the Department of Defense's proliferated LEO National Defense Space Architecture.
'Working with our partners on this industry milestone, we are proud to support the customer mission with this proliferated LEO class of low SWaP-C optical communication terminal,' said CACI SA Photonics COO Mustafa Veziroglu. 'Building on the success of the Mandrake II program, the highly-manufacturable second-generation CrossBeam optical terminal is now ready to move into volume production in our expanded Los Gatos, California campus and new manufacturing facility in Orlando.' 
--
Northrop Grumman demonstrates networked laser communications system for LEO constellations 
Northrop Grumman has announced the successful ground demonstration of a secure networked laser communications system for proliferated-LEO constellations supporting the US military.
The demonstration validated compatibility between commercially developed laser communication and secure US government encryption hardware, providing a baseline for Northrop Grumman's future proliferated space crosslink communications offerings including the Space Development Agency's (SDA's) Transport and Tracking programmes.
'We invested in this demonstration because we wanted to reduce key risks early in development,' said Blake Bullock, vice president for communication and strategic space systems at Northrop Grumman. 'Our team focused on speed and optimising the best of emerging commercial suppliers like Mynaric and Innoflight – while bringing the mission expertise unique to Northrop Grumman to test and field this prototype constellation.'
Northrop Grumman selected Mynaric as a strategic supplier for laser communications in space, and Innoflight for encryption, decryption and other key aspects of Northrop Grumman's architecture.
As the US Department of Defense works to connect the joint force, Northrop Grumman's space networking capabilities seek to play a vital role in providing secure global connectivity. Another step toward enabling this vision to connect the joint force is the recent announcement of a collaboration with AT&T to research and develop a 5G-enabled digital battle network.
--
More information on satellite optical communications can be found in our now on-demand webinar: Opportunities for photonics in the space sector