Looking for photonics career advice? Tips from the Photonics100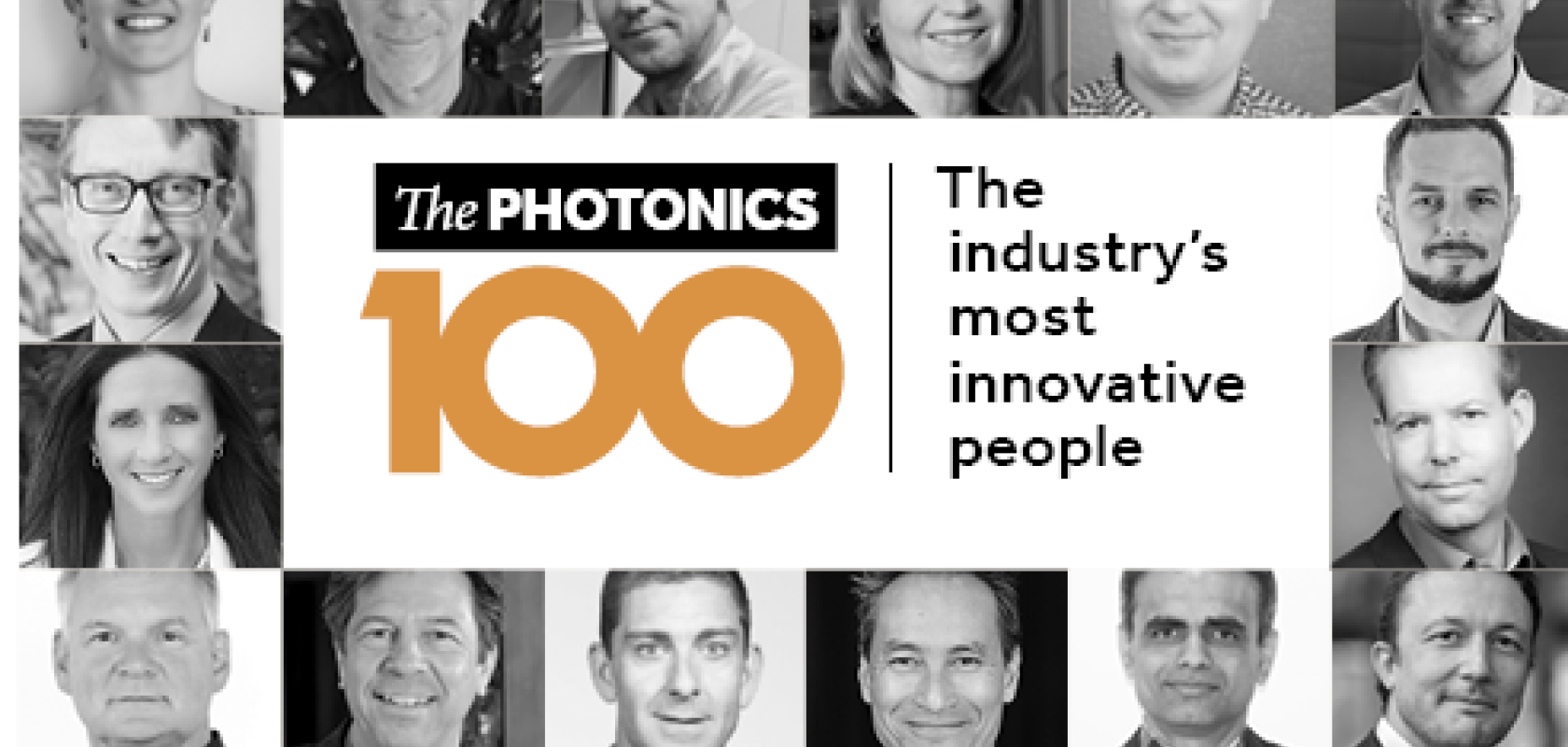 SPIE recently released its annual Optics and Photonics Global Salary Report 2023 and perhaps the biggest headline finding was that respondents' salaries in some of the biggest photonics labour pools remained flat or nearly flat, with 0% increases in 2022 in salaries paid in Chinese yuan and Japanese yen and only a 4% rise in those paid in US dollars. Those paid in pounds sterling actually fell 3% year-on-year, versus a 15% increase in salaries paid in euros.
On the gender gap, median salaries were reportedly 19% higher overall for men than for women this year, which is up from a gap of 16% in the 2022 report.

So do these figures mean photonics is becoming a less desirable industry in which to work? Not according to our Photonics100 honorees. As Huawei Technologies' Maxim Kuschnerov put it: "Every year, I say that it's never been a better time to be in optics and every year so far I've been right. Photonics will shape the future of mankind much deeper than anyone can anticipate." The following is a snapshot of what some of his co-honorees had to say about building a successful career in the field.
Jennifer Kehlet Barton, BIO5 Institute: "Build relationships. There are a few worthwhile things one can do alone in their lab, but the path to actually helping people requires a vast network of colleagues with complementary technical skills, as well as those with business, legal, administrative, and social science skills. Getting to know people with different backgrounds, perspectives and expertise is critical in order to have all the ingredients for success."
Amy Bauer, Ocean Insight Applied Systems: "Get as much education as you can, collaborate as much as possible, use people in unrelated fields as inspiration. Also, give support as much – and as soon – as you can. When you start out in a new field of endeavour, people will be ladders to you, but if you're doing it right, it won't be long before you're a ladder for others."
Jan Bogaerts, Gpixel: "Since no one is able to realise advanced research on their own, it is of the utmost importance to become part of a team that is experienced and ambitious in its targets, while at the same time is welcoming junior people to grow and learn from delays, mistakes, etc. Nothing is more satisfying than succeeding in pushing the technological boundaries within an environment where a lot of different skills are required and where there is a great team spirit and culture to push and mentor each other."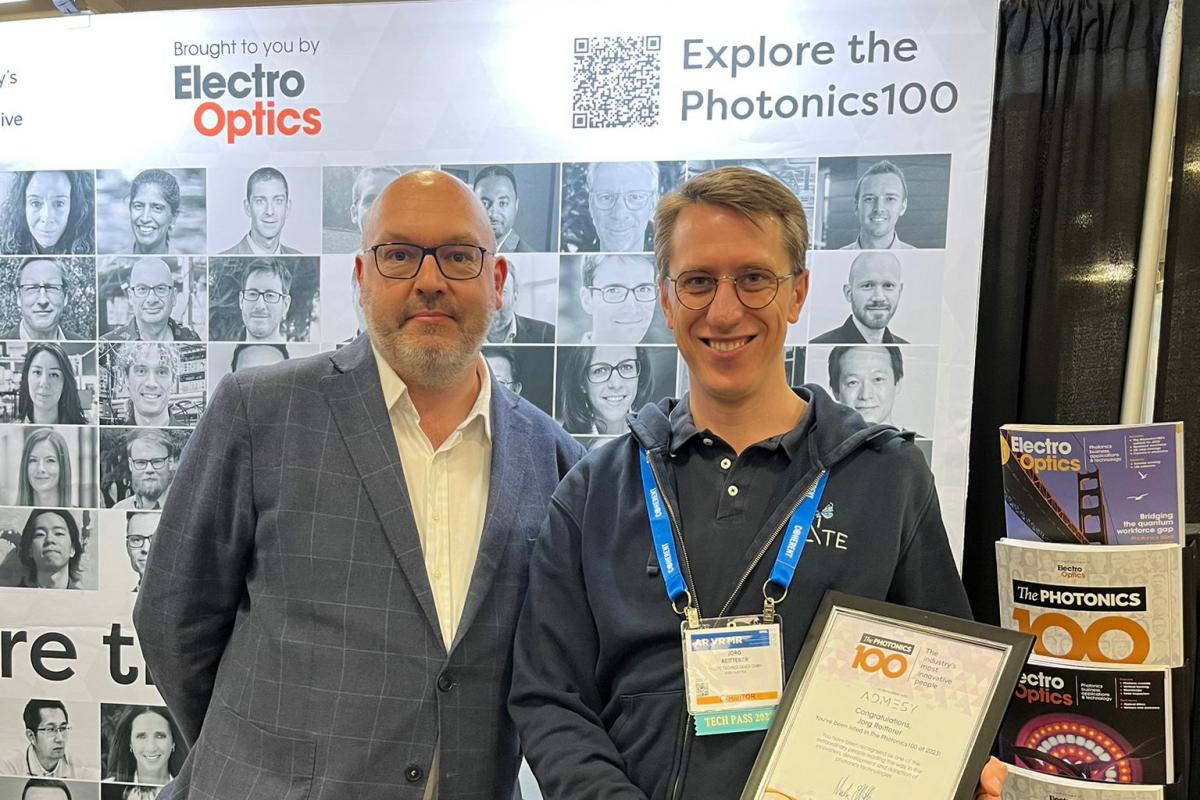 Jörg Reitterer receiving his Photonics100 certificate from Europa Science COO Mark Elliott at Photonics West
 Jörg Reitterer, TriLite Technologies: "Gain interdisciplinary knowledge in other engineering fields such as electrical, mechanical, and software engineering. For many challenges in photonics research, it is best to look beyond just pure photonics to find the best system-level solutions." 
Matthias Budden, WiredSense: "Stay curious and question the technology status quo. There is still a lot to discover and photonics research can help solve our society's problems through technology. The photonics community is highly supportive and thrives on cooperation."
Berhanu Bulcha, NASA: "I encourage photonics experts to reach out to chemists, biologists, medical doctors, and other science disciplines to brainstorm and utilise photonics technologies to address challenges from other fields."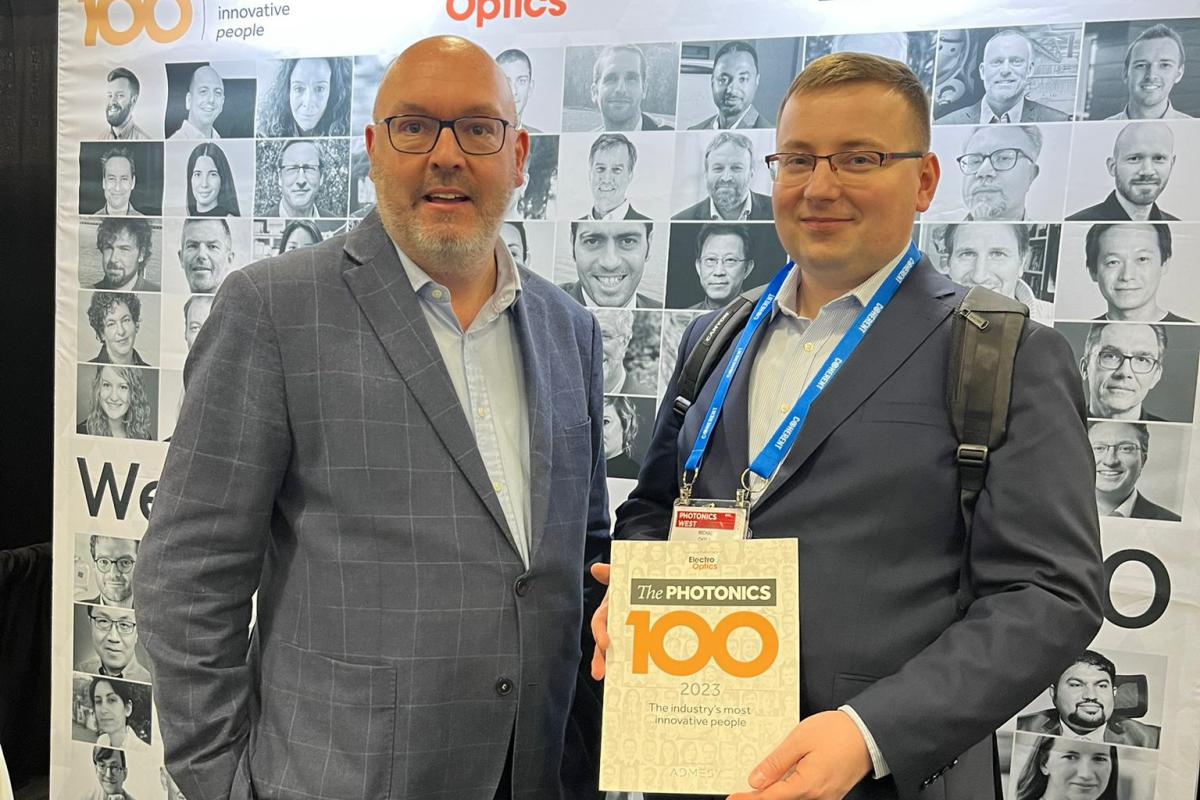 Michal Chyla receiving his Photonics100 certificate from Europa Science COO Mark Elliott at Photonics West
Michal Chyla, HiLASE: "I would advise them to be determined and patient. Usually, things do not happen overnight, and one needs to be persistent in one's efforts."
Julie Sheridan Eng, Coherent: "I might be interested in trying biophotonics as a career – it's an interesting area and will have longevity." 
Laura Gemini, ALPhANOV: "Think internationally. Do not be afraid of new experiences. Always learn as much as possible from them, personally and professionally. Do not be afraid to make your voice heard and ask for the recognition you deserve, especially as a woman in STEM." 
Reto Häring, TOPTICA Photonics: "Have fun! Photonics is challenging and beautiful. Enjoy successes and don't be discouraged by setbacks."
Olaf Hollricher, WITec: "Real experiments are both the hard part and the fun part. Even if simulation software gets better all the time, there's no substitute for long nights around an optical table." 
Neveen Hosny, M Squared Life: "In any job, it's important to enjoy the work you do and always look for the positives. Even when it seems unfathomable, there is always a way round. Every outcome has a reason and it is part of your role to understand why or how something has become what it is to develop the next steps along that development path. Always ask questions; photonics is a fast-paced, technology-driven field with many avenues that don't always overlap. Look for the interfaces where new ideas can grow."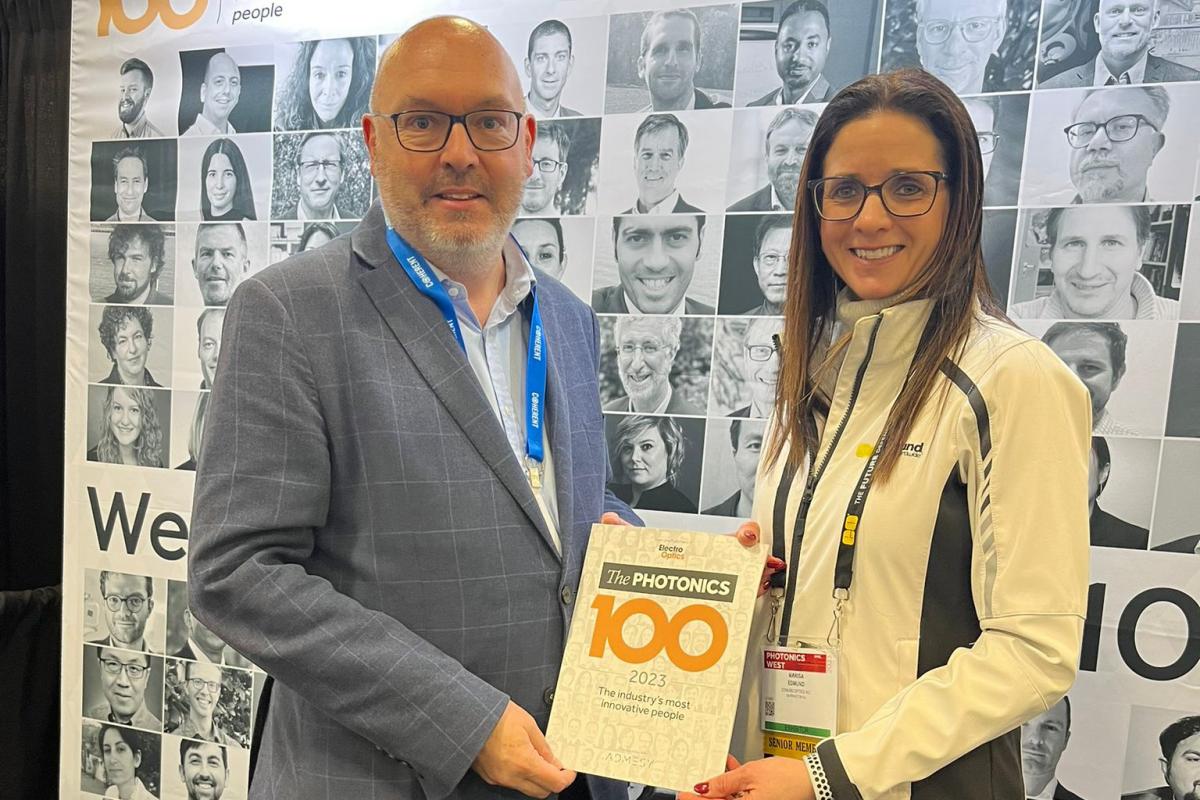 Marisa Edmund receiving her Photonics100 certificate from Europa Science COO Mark Elliott at Photonics West
Marisa Edmund, Edmund Optics: "First, don't wait to be 'voluntold'. If there is an opportunity to get involved or work on a new project, be the first one to raise your hand. Waiting for others to promote or advance you is a waste of time and simply won't happen. You need to forge your own path. Second, try as many different roles or technology areas as possible. Third, get comfortable taking risks and putting yourself in uncomfortable situations. Fourth, don't give up!"
Thomas Kalkbrenner, Carl Zeiss Microscopy: "Keep your scientific curiosity and think from the end – what is the final goal, the vision of your research project, the application – and what do I need to get there? (In contrast to: I'm good at this and that technology, where do I find a suitable problem?) Change fields, maybe embark on a different (even non-photonics) direction if you like – innovation nowadays happens a lot between fields and not within a certain area. I believe that a view from a different perspective can help a lot!"
Peter Kean, G&H: "Find something that excites you and go for it! Find an area of photonics that you feel passionate about and study to understand the details of that part of the field. Certainly in industrial R&D, where products are expected to work in a variety of environments and over many years, there are no short cuts and details matter." 
Masaru Koshihara, Anritsu Corporation: "Remember that technology is in a period of rapid change, please get in touch with the key players in the field by participating in open forums such as academic conferences and talk to more senior researchers about their careers and try to weigh up their insight." 
Bernard Kress, Google: "Do not wait for the best offer, focus on your passion, seize the opportunity and run with your ideas. Start your career with entrepreneurship before entering big tech industry. Also, you really should get involved in various ways to help scientific societies as a parallel voluntary activity to your main academic or corporate activities. This can be very rewarding and can also become a great career boost and help provide stability in a career where changes and moves can be very frequent." 
Carlos Lee, EPIC: "Go to exhibitions and conferences and other events around the world to learn about companies, and build your own personal network of contacts. Your worth is your network!"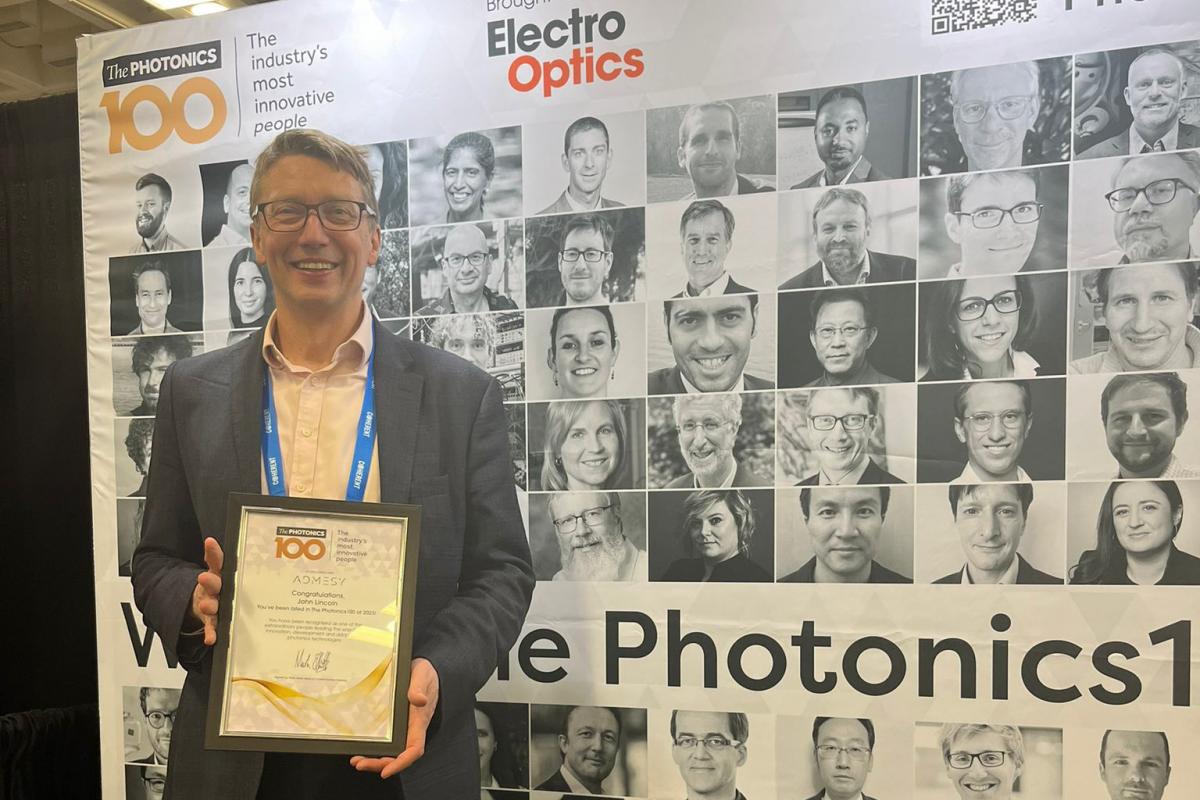 John Lincoln with his Photonics100 certificate at Photonics West
John Lincoln, Photonics Leadership Group: "Be flexible and always be willing to explain what you are doing and why it makes a difference to anyone, no matter their technical or industry background. In the time it takes to ride an elevator, catch a cab or grab a beer!"
Callum Littlejohns, University of Southampton: "Do what you love and be yourself. Not everyone is made to be a great researcher, but there are many other opportunities in silicon photonics, such as cleanroom engineers, business development managers, laboratory technicians and more, all of which are of equal importance to the future of silicon photonics."
Haïk Mardoyan, Nokia Bell Labs: "Research in photonics must be a passion because, even if many physical effects have been found, there will always be a technological advance that you have investigated, and which will add an important brick in the evolution of humanity."
Iain McKenzie, ESA: "Be curious and don't be scared to diversify your knowledge base. Take every opportunity to learn from other disciplines, as photonics is very much a pluri-disciplinary subject and, finally, commit to a life-long learning."
Pascual Muñoz, VLC Photonics: "Photonics is a transversal and enabling technology for many existing and future products. Get engaged with groups working on fields that can be subject to tech transfer, such as those that can be transformed in the shape of photonic chips."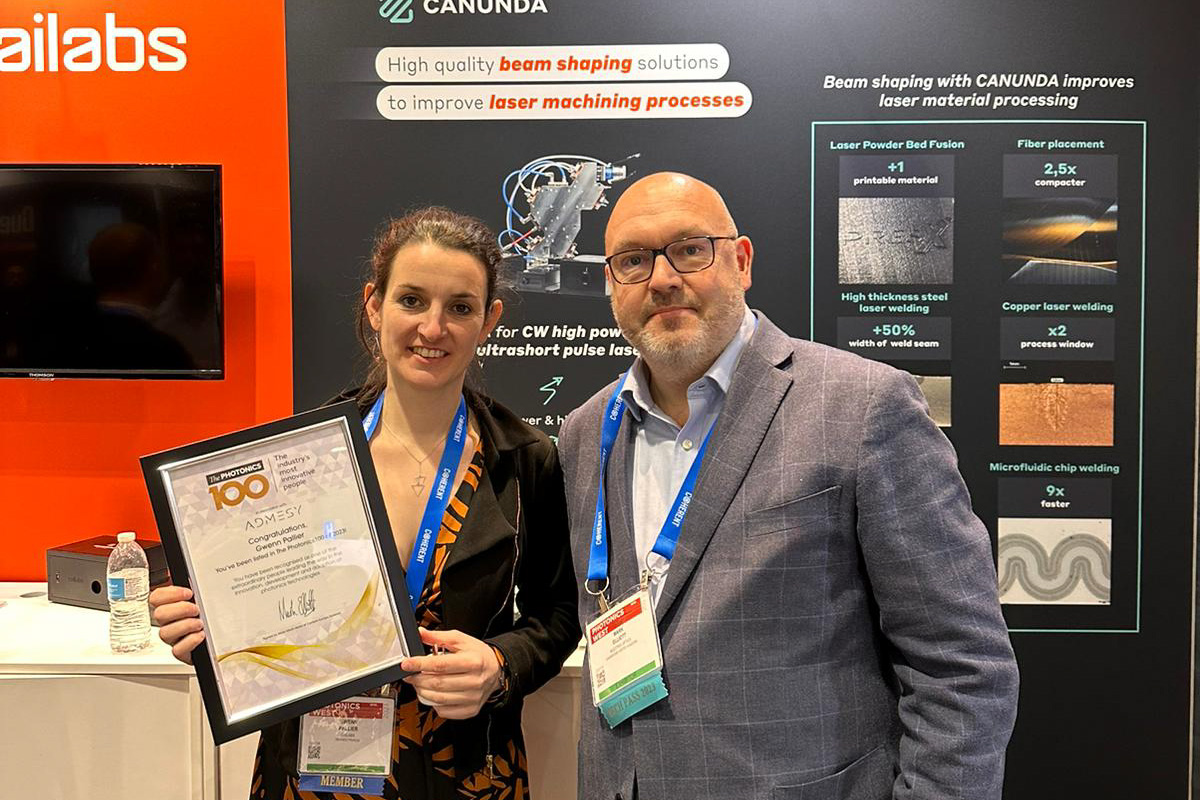 Gwenn Pallier receiving her Photonics100 certificate from Europa Science COO Mark Elliott at Photonics West
Gwenn Pallier, Cailabs: "Always take time to listen to more experienced people; one can actually can save a lot of time by being humble and just listening."
Simonette Pierrot, Lumentum Switzerland: "Follow your passion, do what you are good at, reflect on the challenges you experience and grow from them, keep learning, take care of your aspirations and motivation."
Juergen Popp, Friedrich-Schiller University and Leibniz Institute of Photonic Technology: "The advice I would give to someone embarking on a career in biophotonics or medical photonics is not to hide in an optics lab and to work alone on a special problem. The worst you can do is to research a photonic approach for a medical problem that does not exist. Always get a medical doctor or life science scientist, i.e. end user of the photonic approach you are researching, involved in your research from the very beginning." 
Pascale Senellart, Quandela: "Quantum photonics is in a unique position to push forward a large range of classical photonic technologies: highly transmittive chips, fast switches, ultrafast detectors, etc. This means that the development of optical quantum technologies will be a broadly collective effort. Embarking on this adventure, I would recommend to play the game: discuss ideas with your colleagues, create a network of collaborators with complementary skills, work to bring the community up as a whole."
Frank Smyth, Pilot Photonics: "To make an impact, it is critical to understand the bigger picture. Early in your career in photonics research, you can be a bit too focused or even blinkered by your own research and the ideas or solutions you are working on. But it is important to understand the market very deeply if you want your research to make a difference. You can have the best idea in the world, but if it doesn't fit with existing investments and roadmaps, it is unlikely to succeed. So I advise young researchers [that] they need to keep up with the trade press as well as the technical journals. And at conferences and trade shows, they should spend lots of time on the show floor and engaging with the industry, and attending market-focused sessions as they do at pure technical sessions."
Nathalie Vermeulen, Brussels Photonics (B-PHOT), Vrije Universiteit Brussel (VUB): "Rather than following 'hypes,' it is worthwhile to thoroughly and systematically explore all the potential of one specific topic or approach before moving on to something new. Finally, keep in mind that scientific breakthroughs generally require intensive team work, so in the end it is all about people working together, both within the photonics domain and across disciplines."
David Welch, Infinera: "This area is a very rich space for innovation and the tool set is continuously evolving. I would encourage those entering their career to embrace change and prepare to rapidly assess innovations."
Peter Winzer, Nubis Communications: "My biggest advice to all engineers, and especially to those working in the hype-struck field of photonics, is to never blindly follow the hot topics but instead always honestly question why you are doing what you are doing. 
Know the real-world problem you are trying to solve, assess its practical importance in the bigger picture, consider all solutions to the problem, especially those that lie outside your own field."